Xiushui Street

Chinese name: 秀水街 (Xiushui Jie)
Location: in the west of Guiyou Department, north of East Chang'an Road, Chaoyang District, Beijing City.
Ticket: free
Opening time: 09:30-21:00
How to get to Xiushui Street:
- take metro No.1 and get off at Yong'anli Station (永安里站);
- take buses No.1, 4, 28, 43, 120, 666, 667, 668, 728, 729.
Introduction to Xiushui Street of Beijing
Started in 1980 with only several stores scattered among embassies and diplomatic apartments in the district, it was unexpected that 10 years later, the Xiushui Street became a symbolic name of Beijing travel as important as the Great Wall, the Forbidden City and the Peking Roast Duck, attracting a large stream of tourists both home and abroad. Enjoying a preferable location just next to the CBD business district of Beijing City and covering about 28 000 square meters, Xiushui Street is a must-seen spot as a comprehensive trade center with diversified trendy commodities, argy-bargy operating mode and traders from all over the country spoke different Chinese dialects as well as simple English. After a renovation in 2005, the new Xiushui Street wins a further development and focuses more on the high quality of commodities, the justified price and the more considerate service, which brings it more public praise even by some famous statesmen and stars, for example, the former president George Bush once shopping in Xiushui Street with his daughter during their stay in Beijing and purchased some silk Chinese robes.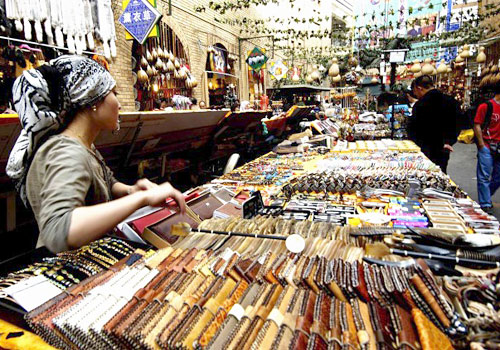 A combination of trade brands, fashion and multiple cultures, Xiushui Street operates Jeans and other Branded cloths, leather products, scarves, silks, batiks, pearls, pottery, Chinese tea, artwares, antiques, Chinese calligraphy and painting, fashion accessories, and kinds of local snacks. In addition, Xiushui Street is a gathering place for most China time-honored brands of the city, such as QJD (Quanjude, 全聚德) of Peking Roast Duck, Ruifuxiang (瑞蚨祥) for silks and satins as well as foreign goods, Beijing Tongrentang (同仁堂) for traditional Chinese medicine, Qianxiangyi (谦祥益) for silks and satins, Neiliansheng (内联升) for traditional Beijing cloth shoes, Shengxifu (盛锡福) for various Chinese caps and hats, etc. Furthermore, convenient amenities, like western cafés, fast-food restaurants and supermarkets are also equipped in the Xiushui Street.