12 Days Beijing, Hohhot, Baotou, Erdos, Yinchuan and Zhongwei Tour
Tour Code:ST10
Tour Duration: 12 Days
Tour overview:This special tour is comprised of the great highlights in North China, which represent not only the natural beauty of the endless grassland and the magic resonant sand but also the mystery and grandness of ancient imperial tombs in different ethnic style...
Day by Day Itinerary
Day 1 Beijing Arrival
Transfer via: Flight on your own arrangement

Arrive in Beijing, you will be met by our English speaking tour guide and then be transferred to hotel. Free at leisure the rest of the day.
Day 2 Beijing / Hohhot (B, L)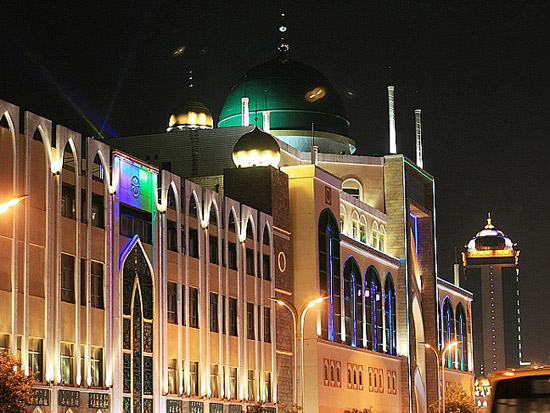 Transfer via: Flight on our arrangement

Take a flight to Hohhot, the capital city of Inner Mongolia Autonomous Region. Upon arrival,you will be met and transferred to your hotel. Free at leisure in the rest of the day.
Day 3 Hohhot / Grassland(B, L, D)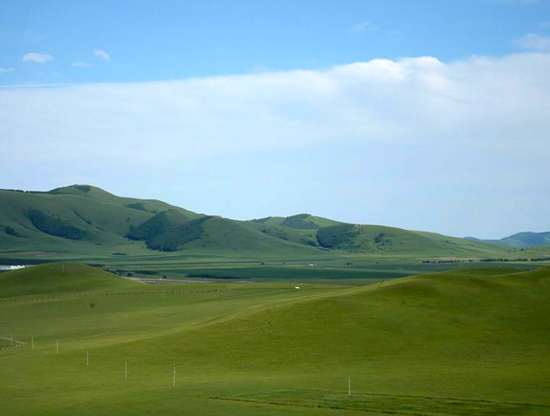 Transfer via: Private Vehicle on our arrangement
Sightseeing: touring the vast grassland and pastures

Begin our day by touring the vast grassland and pastures. Taste the unique local food for lunch. Later watch the locals in horse riding, wrestling and archery. In the evening after a Mongolian lamb dinner we enjoy the graceful Mongolian singing and dancing. At night we stay in mushroom-like yurts.
Day 4 Grassland / Hohhot (B, L, D)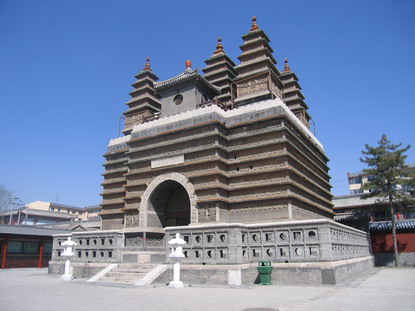 Transfer via: Private vehicle on our arrangement
Sightseeing: Dazhao Temple, Five Pagoda Temple

After breakfast we will say goodbye to the grassland and drive to Hohhot. City tour of Dazhao Temple. which is a Tibetan lamasery. Inside the temple there is silver statue of Buddha Sakyamuni, so the temple is also called Silver Buddha Temple.

Later, visit the famous Five Pagoda Temple. Five-Pagoda Temple (Wuta Si), which is also called Jingangzuo Sheli Baota, is located in Hohhot City. As there are five small dagobas on the pedestal of the pagoda, it is named Wuta Si. Wuta was originally a building of the temple constructed during 1727-1732. Now the temple has disappeared, but the pagoda has remained.

For dinner tonight, the delicious roast whole lamb will be served.
Day 5 Hohhot / Baotou (B,L)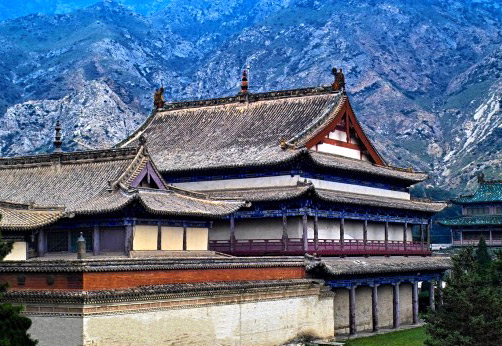 Transfer via: Parivate Vehicle on our arrangement
Sightseeing: Meidaizhao, Wudangzhao

Drive to Baotou City. Visit Meidaizhao Lamasery, it is located around 80 km east of Baotou. It was built in 1575 for Alatanhan, a leader of the Mongolian tribe in ancient China, also the 17th generation of Genghis Khan. It was one of the most important centers for spreading Tibetan Buddhism in Inner Mongolia. Meidaizhao Lamasery is more of a walled city than a lamasery. The architecture is a mixture of Central China style with Tibetan and Mongolian features. It covers an area of 4,000 square meters, and contains temples, royal palaces, enclosing walls and city gates.

Also a visit to Wudangzhao, 70 kilometers from the city of Baotou. Wudangzhao is the largest and best preserved monastery in Inner Mongolia. It was built during the reign of Emperor Kang Xi of the Ong Dynasty, after the model of Tashihunbu Monastery in Tibet. It is hemmed in by mountains and trees. In front of the monastery there is a clear, crystal stream. Covering 200,000 square meters in area, the monastery emcompasses six halls, three apartments for living Buddhas, and 2,538 rooms.

For dinner tonight, the famous local cuisine Carp from Yellow River will be prepared.
Day 6 Baotou / Erdos (B, L)
Transfer via: Parivate Vehicle on our arrangement
Sightseeing: Resonant Sand Bay

Today we are going to experience a natural phenomenon by visiting the Resonant Sand Bay in Erdos, which is 45km from Baotou and emits a sound like the purring of a car or an aircraft engine whenever someone is sliding down the top of its 90-metre-high slope with a 45-degree gradient. Visitors may also go horseback or camelback riding or enjoy local folk singing and dancing.
Day 7 Erdos / Yinchuan (B, L)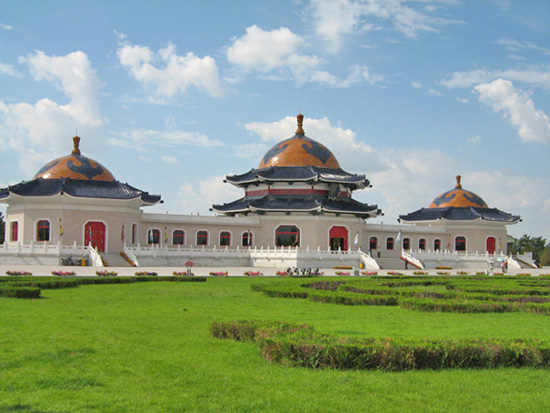 Transfer via: bus on our arrangement
Sightseeing: Genhis Khan Mausoleum,

Leave for the Genghis Khan Mausoleum in the morning. After about 1 hour's drive, arrive and visit the mausoleum, the main structure of which is made up of three connecting palaces in Mongolian yurt style. In the main hall is a 5-meter-high statue of Genghis Khan; on the walls are frescos on different themes about this ancient emperor, including his birth, misfortunes, conquering west and east, unifying the Mongolian tribes. Then continue to visit the Genghis Khan Mausoleum Tourist Area, which is known as "the largest site of showing Mongolian custom in China". During lunch time, you can enjoy the large show "Eternal Genghis Khan" at your own expense if you like(RMB 120/per person).

Then you will be transferred to bus station to take bus to Yinchuan. When you arrive in Yinchuan, be met and transferred to your hotel.
Day 8 Yinchuan / Zhongwei (B,L)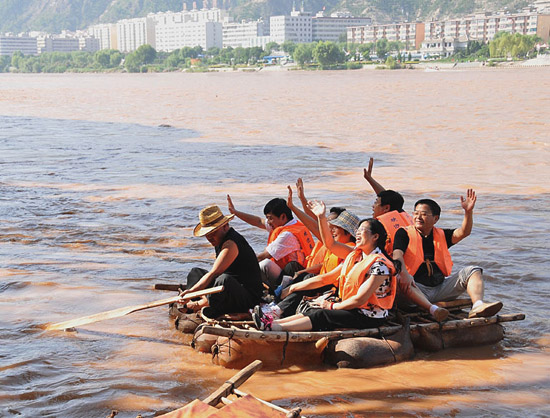 Transfer via: Private vehicle on our arrangement
Sightseeing:108 Buddhist Pagodas, cruise along the Yellow River by sheepskin raft.

This morning, drive to Zhongwei in the morning where we visit the 108 Buddhist Pagodas. The main attractions of the Scenic Qingtongxia Reservoir on the western shore of the YellowRiver are 108 Buddhist pagodas. They range in height from 3.5 to 2.5 metres, fashioned in three shapes (pyramid, gourd, and vase), and arranged on a rising mountain slope in rows of increasing odd numbers to form a colossal triangle. A major scenery by the Yellow River.

Today's highlight is a cruise along the Yellow River by sheepskin raft.
Day 9 Zhongwei / Yinchuan (B, L)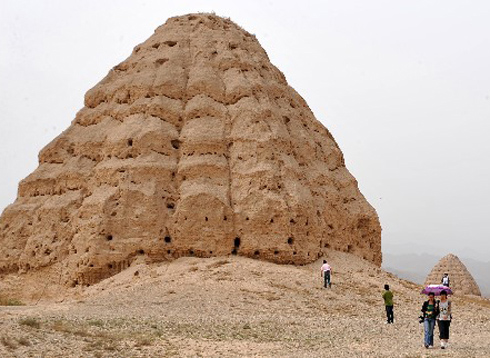 Transfer via: Parivate Vehicle on our arrangement
Sightseeing: Western Xia Mausoleum, Cliff carving in Helan Mountain

Back to city of Yinchuan, you will visit the Oriental Pyramid - Western Xia Mausoleum. The tombs are a well-known travel site. It is located at the eastern foot of Helan Mountain, close to Yinchuan City in Ningxia Autonomous Region, measuring 10 kilometers north to south, 4 kilometers east to west; the Mausoleum contains the tombs of emperors of the Western Xia. There are eight tumuli and over 70 annex tombs in this area.

Later proceed to see the Cliff Carvings in Helan Mountain. Hailed as a major wonder of ancient Chinese civilization, these cliff carvings there are tens of thousands of them were discovered at the entrance to the Helan Mountain 46 km from Yinchuan. Done by Chinese nomads some 10,000 years ago. They run the gamut from portraits, totems and geniolatry signs to scenes of hunting, grazing, war and dance. There is something genuinely uninhibited and unaffected about them.
Day 10 Yinchuan / Beijing (B, L)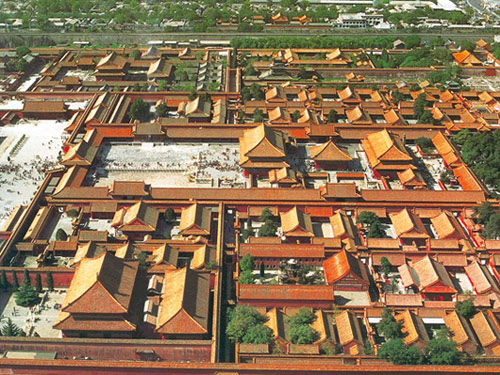 Transfer via: Flight on our arrangement
Sightseeing: Tiananmen Square, Forbidden City, Temple of Heaven

Take morning fligh to Beijing. When you arrive in Beijing, be met and transferred to your hotel.

This morning our tour will begin with a visit of the Tiananmen Square, the symbolical heart of China and gathering place for the masses. It is the biggest public square in the world, which can hold one million people.

From here we will walk across the Golden River Bridge to visit the Forbidden City and experience the ancient Emperor's daily life. For 5 centuries Chinese emperors carried out their administration here. With almost 10,000 rooms, it was the centre of the Ming and Qing dynasties, a massive complex of palaces, pavilions, courtyards and gardens where 24 emperors used to live. Forbidden City was the largest palace in the world, and in the past it was indeed a forbidden place for commoners. Your tour here will include private access to the Emperor's palace.

Time permit, we will continue by visiting the Temple of Heaven, which was completed in 1420, and expanded over the years by two Qing Dynasty Emperors. It was the place where the Emperor came every winter solstice to worship heaven and to solemnly pray for a good harvest. With the three blue-tiled cone-shaped roofs, a unique wooden and blue-tiled structure built without a nail, it has become a worldwide symbol of Beijing.
Day 11 Beijing (B, L)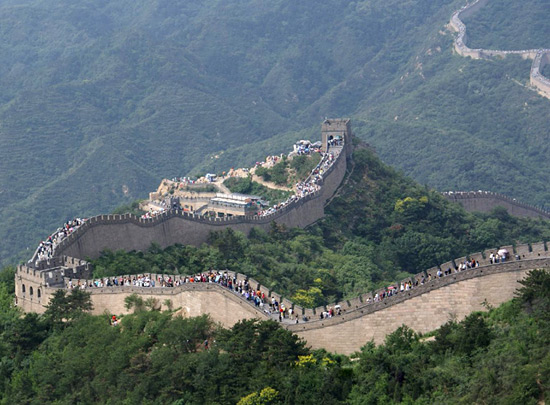 Sightseeing: Badaling Great Wall, Ming Tombs, Sacred Way

After experiencing the royal lifestyle, today we will be transferred to the surrounding countryside of Beijing and visit the Badaling Great Wall, the pride of China and one of the Seven Wonders of the World. Whereas Genghis Khan contemplated it as a military obstacle, Richard Nixon described it as one of humankind's greatest achievements. You will be able to climb and walk one of the best preserved sections of the 2,000 years old ancient wall, admiring the splendid mountain views. Bring a jacket and layer- although it is breezy, the climbing is tough. So be in a good shape!

In the afternoon we will visit the legendary Ming Tombs, which are situated at the foot of Heavenly Longevity Mountain, Changping, northwest of Beijing. Since there are 13 Ming emperors buried there, this place was called the 13 Ming Tombs. You will walk along the Sacred Way, a road guarded by stone statues on both sides, as the ancient emperors did to hold a memorial ceremony for their ancestors. In addition, you will encounter the marble tombs of the Ming Dynasty emperors.
Day 12 Beijing (B)
Transfer via: Flight on your own arrangement

Today will be free for your own purposes, until our guide will escort you to the airport for your next destination.