6 Days Shanghai Expo and Suzhou Extention Tour
Tour Code:SWXT02
Tour Duration: 6 Days
Destination:Shanghai, Suzhou, Zhouzhuang
Tour overview:We combine a visit to World Expo 2010 in Shanghai and the essences of Suzhou in this tour. You will spend one day in the international fairs and expositions - World Expo 2010 in Shanghai and have a side trip to Suzhou will lead you to enjoy the beautiful Chinese Gardens. You will have a chance to take a boat trip in the watertown -Zhouzhuang.
Day by Day Itinerary
Day 1 Shanghai Arrival
Transfer via: Flight on your own arrangement
Arriving in Shanghai, you will be met and transferred to your hotel by our local guide.The rest of the day will be free for your own purposes.
Day 2 Shanghai (B)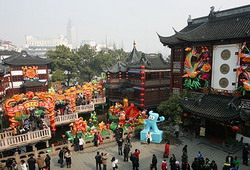 Sightseeing: Shanghai World Expo Site
After breakfast, you will be transfer to Shanghai World Expo venue, visit the Shanghai World Expo Site and pay visit to different pavilions at your interests. In the afternoon, be met and transferred back to hotel (Standard Day Single Day Admission Ticket)
Day 3 Shanghai (B,L)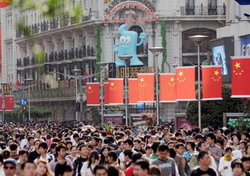 Sightseeing: Yuyuan Garden, Jade Buddha Temple The Bund, Nanjing Road
In the morning you will take a relaxing walk to the lovely Yuyuan Garden, a beautiful garden in the south of the Yangtze River. Wandering through it, you will find pavilions, corridors, streams, courtyards as well as many other natural features.
Then we will head to the Jade Buddha Temple. The old-time and classical architectural style makes the temple unique and inimitable in this modern city. Both, the Sitting Buddha and the Recumbent Buddha are carved with whole white jade. If you're lucky, you can watch the monks serving a ceremony in a side room.

Finally we take a walk to the famous Nanjing Road and the Bund. They are among the most recognizable architectural symbols of Shanghai and therefore a must-see when visiting Shanghai.
Day 4 Shanghai/Suzhou (B, L)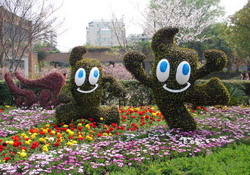 Transfer via: Soft seat train on our arrangement
Sightseeing: Humble Administrator's Garden, Tiger Hill ,The Garden of Master-of-the-Net
In the morning we'll depart from your hotel and take the express train to Suzhou. Suzhou is praised as the "Oriental Venice" and called 'paradise on earth' along with Hangzhou.

Upon your arrival in Suzhou, our guide will meet you and escort you to a local restaurant to have lunch. Then you will visit the Humble Administrator's Garden, the largest classical garden in Suzhou and one of the four most famous ones in China. Originally built in 1513 AD, the garden consists of three parts with different types buildings around streams and ponds.

Then we'll see the Tiger Hill (Huqiu). Tiger Hill is the most famous sight in Suzhou city, enjoying the reputation of "The first scenic spot in Wu area" due to its imposing beauty, including Leisure Spring, Testing Sword Rock, Third Spring, Broken-Pillar-Hall and Mountain Villa Wrapped in Emerald Green etc. With only 36 meters height and an area of 20hectares, you might think it is an artificial hill, but its history can be traced back to 2500 years ago. The Tiger Hill Pagoda in the park is the landmark of Suzhou city.

Finally we will visit Garden of the Master of the Nets, which is truly a masterpiece. The effective use of space is the most impressive thing about this garden. Rock arrangements and beautiful fish pools balance each other as do the house and garden sections. Take some time to walk around and let your sense calm down.
Day 5 Suzhou/Zhouzhuang/Shanghai (B,L)
Transfer via: Private vehicle on our arrangement
Sightseeing: Zhouzhuang Water Town, Cruise in Zhouzhuang
After breakfast, you will be driven to Zhouzhuang. We will spend the whole day in Zhouzhuang, one of the most famous water townships in China. Situated in Kunshan City, which is only 30 kilometers (18 miles) southeast of Suzhou, it is noted for its profound cultural background, the well preserved ancient residential houses, the elegant watery views and the strong local colored traditions and customs. Let us explore this town with a history of more than 2500 years and get to know about the architecture, lifestyle and inhabitants there.Have a cruise in Zhouzhuang.
In the afternoon, after the Zhouzhuang tour, you will be driven to your hotel in Shanghai.
Day 6 Departure Shanghai (B)
Transfer via: Flight on your own arrangement
Today will be free for your own purposes, until our guide will escort you to the airport for your next destination.