7 Days Yuanyang Terrace Fields Tour
Tour Code:EFT08
Tour Duration: 7 Days
Destination:Kunming
Tour overview:Join this tour,appriciate the perfect combination of mountains and rivers of Yunnan and read the non-literal huge book presenting the long history that Hani people struggled against nature and grew-Hani Terraced Fields. You'll be deeply attracted by this wonderful land.
Day by Day Itinerary
Day 1 Arrive in Kunming (B)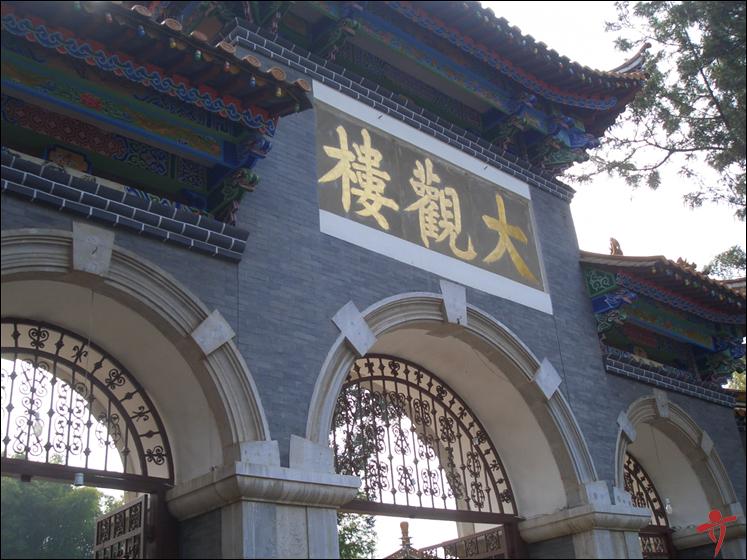 Transfer via: Flight –on your own arrangement (we can arrange it for you if you require it)
Sightseeing: West Hill Daguan Park

Arrive in Kunming, you will be met and transferred to your hotel.

We will start today's tour with a visit of West Hill which contains Huating Hill, Taihua Hill and Luohan Hill, extending a distance of more than 40 kilometers at an altitude of between 1900 meters to 2350 meters above sea level. You will be astonished by the beautiful lush vegetation, blooming flowers, green grass and tranquil surroundings. West Hill has enjoyed great fame for unique natural scenery since ancient time and was renowned as "the most beautiful place in Yunnan".

Afterwards we will enjoy the relaxing atmosphere of Daguan Park. Daguan means 'the grand view' and the park is located in the southwest of Kunming city.
Day 2 Kunming (B, L)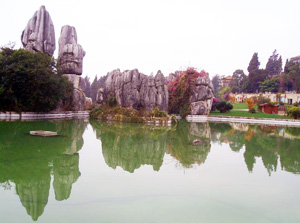 Sightseeing: Stone Forest, Golden Temple

Today we will go on a full day trip to Stone forest. Due to a process of weathering and erosion, nature has created an art gallery of stone sculpture here. This typical Karst physiognomy seems like a forest of stone pillars and boulders. You will see fascination natural creations like Lion Arbor, Sword Peak Pond, Lotus Peak, Moon Lake, Jade Lake, and Dadie Waterfall.

Then we will head to Golden Temple, located on top of Mingfeng (Singing Phoenix) Hill. It is the largest copper temple in China and is also known as the Tongwa Temple (Bronze Tile Temple).
Day 3 Kunming/Jianshui (B, L)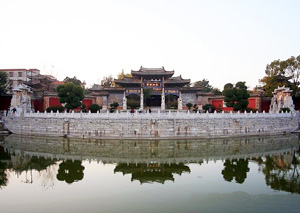 Sightseeing: Jianshui Confucian Temple, Zhu Family Garden

After breakfast, we will drive to Jianshui. Arrive in Jianshui, first visit to Confucius Temple. Jianshui Confucius Temple is the biggest one in Yunnan Province; it was first built in 1285, through expansion of more than 40 times, its area measures 114 mu (7.6 hectares) today. Construction is an imitation of the Qufu Confucius Temple, namely, with a central-axis structure from south to north like a palace. This complex includes a main hall, two side-halls, three pavilions, four gates, five clan halls and eight memorial archways, all of which are kept in splendid dignity

Continue to visit Zhu Family Garden. It is seated in Jianxin Street, Jianshui County. It was built by Zhu Weiqing, a successful businessman and his brother, in late Qing Dynasty around 100 years ago, construction work brokenly lasted 30 years. Garden covers a total area of 20,000 square meters, this grand complex is a typical local residence with distinctive features, with labyrinthine arrangements of yards, pathways and elaborately-furnished rooms and halls, and it enjoys the fame ''the Grand View Garden in Southern Yunnan''. Zhu Family Garden embodies the combination of inland Chinese culture and frontier culture.
Day 4 Jianshui/Yuanyang (B, L)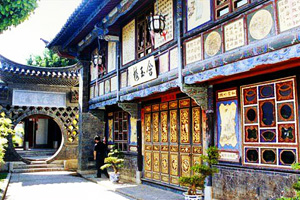 Sightseeing: Zhang Family Garden(Tuanshan Village, Chaoyang Gateway Arch.

Today's tour includes Zhang Family Garden. An age-old village seated 13 kilometers away in the west from Jianshui County, is catching more and more eyes in the world since it got enlisted amongst the 100 Protected Memorial Buildings of the World by WMF in 2005, for its well-maintained style and features of 19th. Century, numerous ancient civilian dwelling houses still remaining intact and folk traditions performed still in its original way. This is a typical kindred village, more than 80% are of the same surname, Zhang, and they are all from the same family tree.

And then the Chaoyang Gateway Arch. Built in 1389,Its significance to Jianshui is the same as that of Tiananmen to Beijing, not only serving as a landmark of the city, but also the emblem of this city's culture and history. The huge three-story structure of the gate tower occupies an area of 414 square meters and has a height of 24.5 meters, it is composed of 48 big wooden pillars and numerous cross-beams, covered with triple roofs, still looking imperatorial like 600 years ago.

After the tours, you will be driven to Yuanyang.
Day 5 Yuanyang (B, L)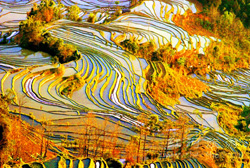 Sightseeing: Yuanyang Terrace Field

Discover the super gorgeous terraced rice paddies, which have been built and maintained for generations. Walk in the Hani villages nestled amid the "Mirror of Heaven". Yuanyang terraced fields has been placed into the preparatory list of World Heritage in China, the Application of Honghe Hani Terraced Fields for World Heritage has been committed to the United Nations Educational, Scientific, and Cultural Organization by Chinese Government in January, 2002.
Day 6 Yuanyang / Kunming (B, L)
After breakfast, your guide and driver will escort you from Yuanyang to Kunming (6 hours' drive).
Day 7 Kunming/Departure (B)
Transfer via: Flight on your own arrangement (we can arrange it for you if you require it)

Today your local guide will transfer you to the airport where you will take the flight to your next destination.