5 Days Miao and Shui Minority Culture Tour
Tour Code:EFT04
Tour Duration: 5 Days
Tour overview:Visit villages and architectures with strong ethnic flavor, get closed to Miao, Yao and Shui Minority of Guizhou and find the lost Shuizhai (water village) culture in Libo. This tour is worth your visiting!
Day by Day Itinerary
Day 1 Arrive in Guiyang (L)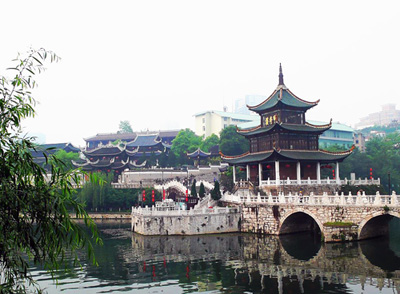 Transfer via: Flight on your own arrangement (we can arrange it for you as per your request)
Sightseeing: Jiaxiu Pavilion, Qianling Park

Upon arrival, you will be met and transferred to your hotel. After a rest, start the city tour to visit Jiaxiu Pavilion which is the symbol of Guiyang City, with a long history of more than 400 years.

Then visit Qianling Park which has the nice view and the largest temple in Guizhou--Hongfu Temple.
Day 2 Guiyang / Kaili (B,L)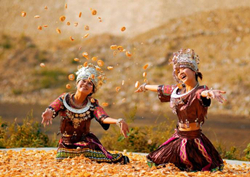 Transfer via: Private vehicle on our arrangement
Sightseeing: Kaili Ethnic Minorities Museum, Jidao Miao Village

In the morning, we will drive to Kali. First visit Kaili Ethnic Minorities Museum. Kaili Museum is actually an Ethnic Minorities Museum, which displays some buildings, food and drink, costumes, festivals, production, recreation, etiquette, morals and beliefs etc. created by Miao People. It provides a broad, comprehensive introduction to the history of the various ethnic minorities that make up the multi-cultural patchwork that is the southeastern part of present-day Guizhou Province. The Kaili Museum will have 12 exhibition halls when it is completed. Currently there are only 4 exhibition halls open to the public, of which the Minority Customs Hall and the Dragon Boat Hall are the most noteworthy.

In the afternoon, we will visit Jidao Miao Village, which is a less commercialized ethnic minority village with well-preserved old wooden houses and rich ethnic customs.
Day 3 Kaili / Libo (B, L)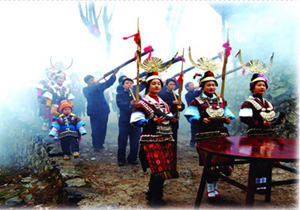 Transfer via: Private vehicle on our arrangement
Sightseeing: Qingman Miao Village, Shiqiao Miao Village, Boji Miao Village, Shui Village

Drive to Libo. On the way visit Qingman Miao Village. Located about 14 miles to the southwest of Kaili, Qingman Miao Village is built along the mountain contours. Surrounded by green mountains and rivers, it is the sweet home to over 300 households and 1,600 Miao people. The unique wooden stilt houses put up range upon range are indeed a splendid scene to see! During your visit here, you'll experience many traditional ceremonies and performance, which are absolutely attractive.

Then drive to Shiqiao Miao Village. Visit Shiqiao village, where Miao people make special paper by tree bark. For thousands of year Shiqiao village offer the paper for Miao people in this region. Till nowadays, you can see almost every village make different types of paper for decoration houses, lanterns, etc.

Today we will also visit Boji Miao Village. Shaped like a dustpan, Boji Miao Village is located in Danzhai County where the land is beautiful and fertile. Over 100 households live here generation after generation. The life in this old village is quite serene and bucolic.

After that we will visit the Shui Village. See the traditional life style of ethnic Shui people. The Shuis usually dress in black and blue. Men have long gowns and black turbans, and women wear collarless blue blouses, black trousers and aprons, all of which are embroidered. On festival occasions, the females put on skirts and a variety of silver earrings, necklaces and bracelets. They usually wear their hair in buns. A Shui house is either a one-storied affair or a two-storied building. Dwellers of two-storied houses usually live upstairs and reserve the ground floor for livestock, dogs and chickens.
Day 4 Libo / Guiyang(B,L)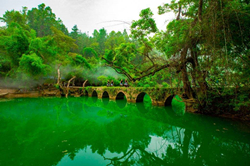 Transfer via: Private vehicle on our arrangement
Sightseeing: Daqikong Scenic Spot, XiaoqiKong Scenic Spot

Today we will visit Libo Zhangjiang Scenic Area, the first world natural heritage site in Guizhou Province, and see the main attractions Daqikong and Xiaoqikong scenic spots in the scenic area.

Firstly visit Daqikong Scenic Spot, which is full of wild forest, canyons and lakes. You will enjoy splendid natural scenery here.

Then go ahead to Xiaoqikong Scenic Spot, which composed with mountain, river, cave and waterfall. Xiaoqikong is the most famous one among the four scenic spots in Libo Zhangjiang Scenic Area. For its exquisiteness and beauty it enjoys the reputation of "super bonsai".

Drive back to Guiyang after the tour and then check in your hotel.
Day 5 Guiyang / Departure (B)
Transfer: Flight on your own arrangement (it can be arranged by us if you request)

Today will be free for your own purposes, until our guide escort you to the airport for your next destination.