13 Day Classic East and North China Highlight Tour
Tour Code:CCT20
Tour Duration: 13 Days
Tour overview:Our 13 Days Classic East and North China Highlights Tour offers something special for those who want to visit parts of China not often seen by visitors. It showcases China's most beautiful cultural aspects and some of its most impressive historical sites. You will visit temples, gardens, lakes, areas of incredible natural beauty, tombs, ancient city walls and much more. This is a tour that will leave you with memories to last a lifetime.
Day by Day Itinerary
Day 1 Shanghai Arrival
Transfer via: International Flight-on your own arrangement
Sightseeing: Nanjing Road, the Bund

Arriving in Shanghai, you will be met and transferred to your hotel by our local guide. Afterwards, you will take a walk to the famous Nanjing Road and the Bund. They are among the most recognizable architectural symbols of Shanghai and therefore a must-see when visiting Shanghai .
Day 2 Shanghai (B, L)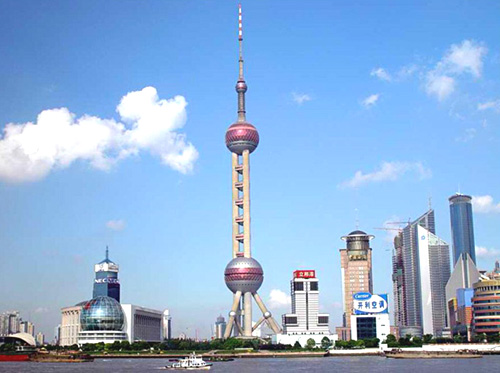 Sightseeing: Yuyuan Garden, Jade Buddha Temple, Old Town, Oriental Pearl Tower

In the morning we will take a relaxing walk to the lovely Yuyuan Garden, a beautiful garden in the south of the Yangtze River. Wandering through it, you will find pavilions, corridors, streams, courtyards as well as many other natural features.

Then you will visit the Jade Buddha Temple in the afternoon. The old-time and classical architectural style makes the temple unique and inimitable in this modern city. Both, the Sitting Buddha and the Recumbent Buddha are carved with whole white jade. If you're lucky, you can watch the monks serving a ceremony in a side room.

After lunch, we will visit the Oriental Pearl Tower, the highest TV Tower in Asia, which creates a picture of 'twin dragons playing with pearls'. The entire scene is a photographic jewel that excites the imagination and attracts thousands of visitors all year-round.

You will also tour the Old Town with its winding alleyways, lined with shops, teahouses and restaurants.
Day 3 Shanghai / Hangzhou (B, L)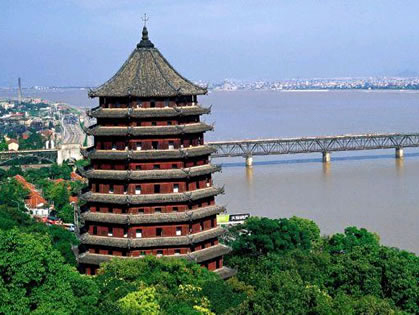 Transfer via: Train (soft seat)-on our arrangement
Sightseeing: Fei Lai Feng, Ling Yin Temple (Temple of Soul's Retreat), Six Harmonies Pagoda

Take morning train to Hangzhou. Arrive in Hangzhou, be met and then you will visit Lingyin Temple including the Fei Lai Feng. The Fei Lai Feng is situated in the east of Ling Yin Temple. Isolated from others, its stone quality is totally different from that of surrounding mountain groups.

After having lunch at local restaurant, we will drive to the Six Harmonies Pagoda, highly erected next to Qiantang River and in the south of the West Lake. It is a perfect example of brick-and-wood structure built in ancient China and was built in 970 AD in the Northern Song dynasty (960-1127) to press down the evil of the river tidal bore in Qiantang River.
Day 4 Hangzhou / Suzhou (B, L)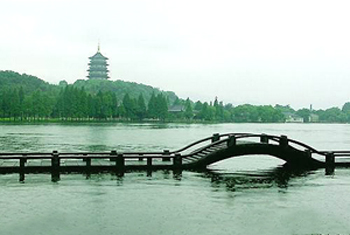 Transfer via: Train (soft seat)-on our arrangement
Sightseeing: West Lake, Dragon Well Tea Plantation

This morning, we will visit the beautiful West Lake. We will take a cruise boat across the lake to see the 3 pagodas in the lake. The West Lake is the most famous tourist spot of Hangzhou. Graceful mountains surround it on three sides. It has a charming scenery and many cultural relics and historic sites.

Dragon Well Tea is well known worldwide, so you will be guided to the Dragon Well Tea Plantation to discover the history of Chinese tea and the tea ceremony. The water of dragon well is sweet and of good taste. The green tea here enjoys very high reputation since Ming Dynasty (1368-1644 A.D) for its four special features: green color, fragrant aroma, sweet taste and smooth appearance. Finally you will be transferred back to your hotel.

Afterwards you will be transferred to the railway station to take your train to Suzhou. After your arrival, you will be met and transferred to your hotel by your local guide.
Day 5 Suzhou / Wuxi (B, L)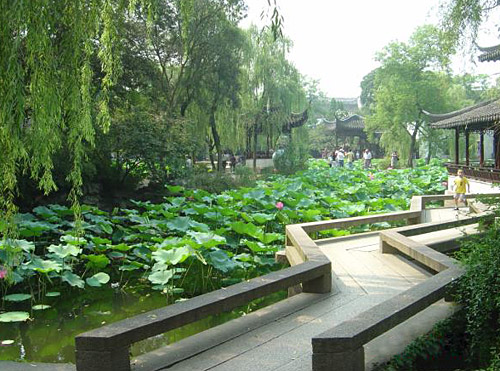 Transfer via: Train (soft seat)-on our arrangement
Sightseeing: Humble Administrator's Garden, Tiger Hill, Grand Canal, No. 1 Silk Factory, Pan Gate Scenery

In the morning you will visit Humble Administrator's Garden, the largest classical garden in Suzhou and one of the four most famous ones in China. Originally built in 1513 AD, it consists of three parts with different types of buildings around streams and ponds.

Then we will move on to Tiger Hill (Huqiu). Tiger Hill is the most famous sight in Suzhou city, enjoying the reputation of "The first scenic spot in Wu area" due to its imposing beauty; This includes Leisure Spring, Testing Sword Rock, Third Spring, Broken-Pillar-Hall and Mountain Villa Wrapped in Emerald Green etc. With only 36 meters of height and an area of 20hectares, you might think it to be an artificial hill, but its history can be traced back 2500 years ago.

Afterwards, we will visit the Grand Canal. As well as the Great Wall, it ranks as the country's greatest engineering achievement and it is the longest man-made waterway in world. Cruising on the Canal, you will see the local peoples' life.

As Suzhou is also famous for its silk production we will spend some time in the No.1 Silk Factory to see how silk is processed from the silk worm to the final woven cloth.

Finally we will stop at Pan Gate which is an ancient city gate with land and water entrances. Gates with land and water entrances were quite typical in ancient China. Pan Gate is the only one left.

After the tours, you will be transferred to railway station to take train to Wuxi. Upon arrival, be met and transferred to your hotel.
Day 6 Wuxi / Yangzhou (B, L)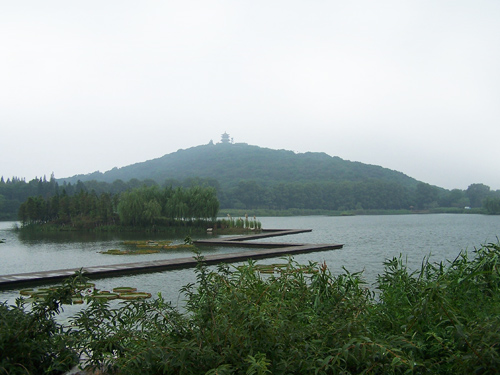 Transfer via: private vehicle –on our arrangement
Sightseeing: Taihu Lake Cruise, Turtle Head Isle Park, Li Garden

Today you will first have a Taihu Lake Cruise. Taihu Lake, located at the junction between Jiangsu and Zhejiang and at the south of Yangtze River delta, enjoys Blue Mountain and green waters, packed with strong southern China flavor

Then visit Turtle Head Isle Park, it is on the Huanhu Road of Mei Garden in Wuxi City. And the Li Garden, it is located in the Qingqi Village on the west bank of the Lihu Lake about 2.5 kilometers southwest of Wuxi City. Transfer to Yangzhou and check in the hotel.
Day 7 Yangzhou / Zhenjiang / Yangzhou (B, L)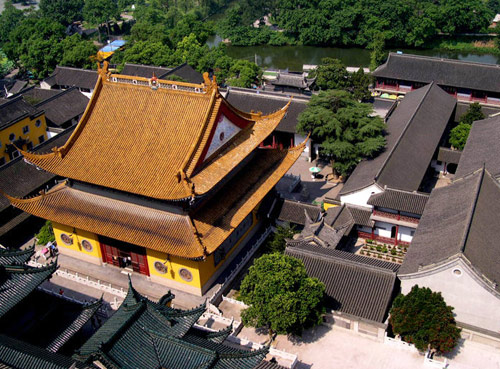 Transfer via: Private Vehicle-on our arrangement
Sightseeing: Jinshan Temple, Jiaoshan Hill

After breakfast, you will be transferred to Zhenjiang. Visit the Jinshan Temple (Gold Mountain Temple), the oldest and also the most famous sight has become a symbol of Zhenjiang City. The temple is visible from far away. It climbs up the sides of a hill along the flat flood plains of the Yangzi, and its pagoda dramatically crowns the crest of the hill.

Then you will move on to Jiaoshan Hill, it is covered by greenery that makes it look like a "floating jade", hence its other name "Floating Jade Hill". Many also dub it "A Park on the River" or "A Reef in Raging Torrents". Due to its splendid beauty, the hill has become a favorite place for celebrities, travelers and locals.

After the tours, we will drive back to Yangzhou.
Day 8 Yangzhou / Nanjing (B, L)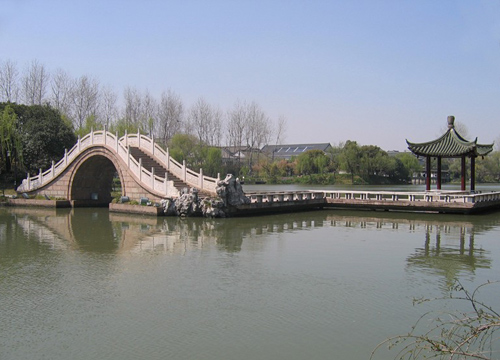 Transfer via: Train (soft seat)-on our arrangement
Sightseeing: Slender West Lake, Ge Garden, Han Tomb Museum

Visit the Slender West Lake (Shou Xihu), it is one of Yangzhou's largest and most striking sights. The lake's layout gave rise to its name - it runs along both sides of a remarkably slender lake which snakes through the north part of the city.

You will also visit to Ge Garden is the most renowned garden in Yangzhou. It is famous for two things - its excellent collection of different types of bamboo and a garden design based on the four seasons of the year.

Before you take the train to Nanjing, you will have a visit to Han Tomb Museum.
Day 9 Nanjing (B, L)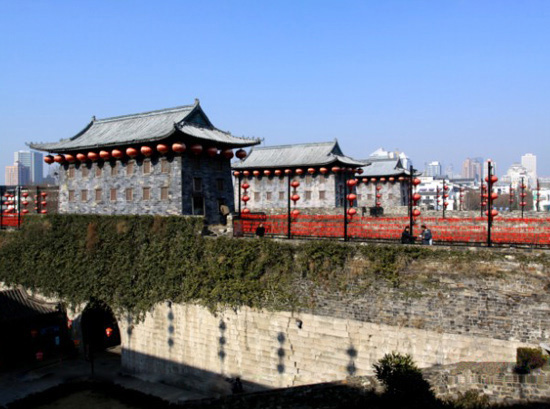 Sightseeing: Sun Yat-sen Mausoleum, Yangtze River Bridge, Nanjing City Wall, Zhonghua City Gate, Nanjing Confucius Temple

Today we will start our tour by visiting Sun Yat-sen Mausoleum. Sun Yat-Sen, leader of the 1911 Revolution that toppled the Qing Dynasty and ushered in the first republic in China's history, died in 1925.The mausoleum offers beautiful scenery and architecture.

Then we will proceed to the Nanjing Yangtze River Bridge. It was the first double deck and double track highway and railway bridge designed and constructed by Chinese people themselves. The upper highway bridge is 4589 meters long and the lower railway bridge is 6772 meters long. Each arch of the main bridge spans 160 meters.

After a Chinese lunch at a local restaurant, we will jaunt to Nanjing City Wall and the Zhonghua City Gate. It is the best preserved Chinese ancient castle, and the biggest and most splendid city gate of Nanjing. The gate was built from 1366 to 1386 and is made of huge bricks and special cement which is extraordinarily strong.

Afterwards our guide will accompany you to Nanjing Confucius Temple. Consisting of 3 architectural complexes, Confucius Temple (Fuzimiao) was originally built in 1034. Enjoy yourself here, since the entire area around the temple consists of a series of tourist shops, snack bars, restaurants and entertainment arcades all being decorated in "Ming" and "Qing" style.
Day 10 Nanjing / Beijing (B, L)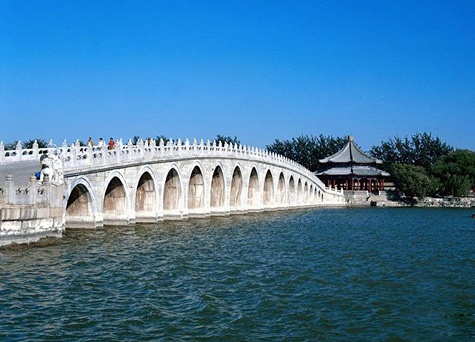 Transfer via: Flight –on our arrangement
Sightseeing: Summer Palace

Today you will be transferred to airport for your flight and fly to Beijing. When you arrive in Beijing, be met and transferred to your hotel.

You will visit the Summer Palace. Equally famous as the Forbidden City, the Summer Palace is called 'Yiheyuan' (Garden of Nurtured Harmony) in Chinese. Until nowadays, it is the best preserved and the largest imperial garden in China. You will regret it if you leave Beijing without having visited this grand imperial garden.
Day 11 Beijing (B, L)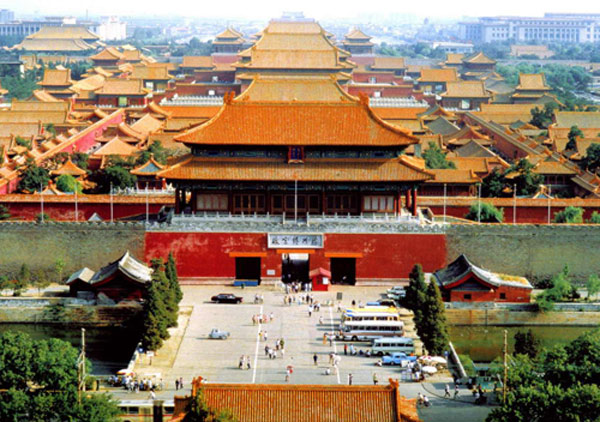 Sightseeing: Temple of Heaven, Tiananmen Square, Forbidden City

This morning our tour will begin with a visit of the Temple of Heaven, which was completed in 1420, and expanded over the years by two Qing Dynasty Emperors. It was the place where the Emperor came every winter solstice to worship heaven and to solemnly pray for a good harvest. With the three blue-tiled cone-shaped roofs, a unique wooden and blue-tiled structure built without a nail, it has become a worldwide symbol of Beijing.

After lunch, we will go on our city tour to visit Tiananmen Square, the symbolical heart of China and gathering place for the masses. It is the biggest public square in the world, which can hold one million people.

From here we will walk across the Golden River Bridge to visit the Forbidden City and experience the ancient Emperor's daily life. For 5 centuries Chinese emperors carried out their administration here. With almost 10,000 rooms, it was the centre of the Ming and Qing dynasties, a massive complex of palaces, pavilions, courtyards and gardens where 24 emperors used to live. Forbidden City was the largest palace in the world, and in the past it was indeed a forbidden place for commoners. Your tour here will include private access to the Emperor's palace.
Day 12 Beijing (B, L)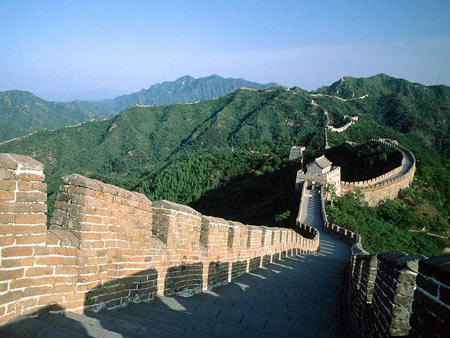 Sightseeing: Badaling Great Wall, Ming Tombs, Sacred Way

After experiencing the royal lifestyle, today we will be transferred to the surrounding countryside of Beijing and visit the Badaling Great Wall, the pride of China and one of the Seven Wonders of the World. Whereas Genghis Khan contemplated it as a military obstacle, Richard Nixon described it as one of humankind's greatest achievements. You will be able to climb and walk one of the best preserved sections of the 2,000 years old ancient wall, admiring the splendid mountain views. Bring a jacket and layer- although it is breezy, the climbing is tough. So be in a good shape!

In the afternoon we will visit the legendary Ming Tombs, which are situated at the foot of Heavenly Longevity Mountain, Changping, northwest of Beijing. Since there are 13 Ming emperors buried there, this place was called the 13 Ming Tombs. You will walk along the Sacred Way, a road guarded by stone statues on both sides, as the ancient emperors did to hold a memorial ceremony for their ancestors. In addition, you will encounter the marble tombs of the Ming Dynasty emperors.
Day 13 Beijing Departure (B)
Transfer via: International flight –on your own arrangement

You will have some more leisure time until our guide will escort you to the airport for your next destination.