12 Days Classica China Tea Culture Tour
Tour Code:CCT18
Tour Duration: 12 Days
Tour overview:Tea is a very special part of China's culture, and for many, it is a way of life. This tour will invite you into the world of Chinese tea. Hangzhou, famous for its Dragon Well Tea, and Wuyishan Mountain, famous for its Da Hong Pao (Big Red Robe) Tea, are two of the most famous tea destinations. There you will visit tea gardens, see how tea is picked and processed, and you will be introduced to the Chinese tea ceremony.
Day by Day Itinerary
Day 1 Arrive in Shanghai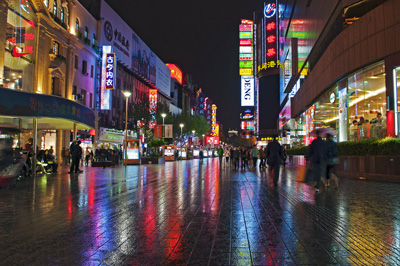 Transfer via: international flight on your own arrangement
Sightseeing: The Bund, Nanjing Road

Arriving in Shanghai, you will be met and transferred to your hotel by our local guide. Afterwards, you will take a walk to the famous Nanjing Road and the Bund. They are among the most recognizable architectural symbols of Shanghai and therefore a must-see when visiting Shanghai.
Day 2 Shanghai (B, L)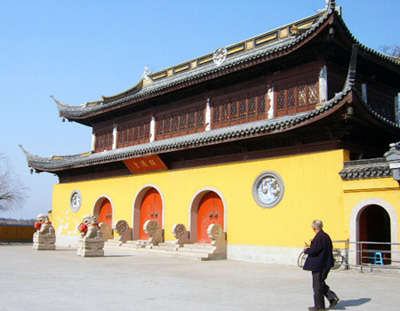 Sightseeing: Yuyuan Garden, Shanghai Museum, Oriental Pearl Tower

In the morning we will take a relaxing walk to the lovely Yuyuan Garden, a beautiful garden in the south of the Yangtze River. Wandering through it, you will find pavilions, corridors, streams, courtyards as well as many other natural features.

Then we will visit Shanghai Museum which is the biggest museum of China. It incorporates a collection of over 120,000 pieces of Chinese art & cultural relics and is especially famous for its treasures of bronzes, ceramics, paintings and calligraphy.

After lunch, we will visit the Oriental Pearl Tower, the highest TV Tower in Asia, which creates a picture of 'twin dragons playing with pearls'. The entire scene is a photographic jewel that excites the imagination and attracts thousands of visitors all year-round.
Day 3 Shanghai / Hangzhou (B, L)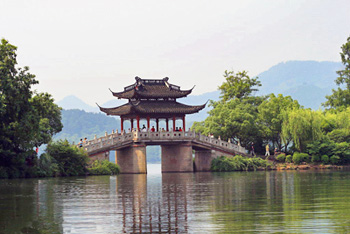 Transfer via: Express train on our arrangement
Sightseeing: West Lake, Lingyin Temple, Feilai Peak

Take an express train to Hangzhou. Upon your arrival in Hangzhou, our local guide will meet you and escort you to beautiful West Lake. We will take a cruise boat across the lake to see the 3 pagodas in the lake. The West Lake is the most famous tourist spot of Hangzhou. Graceful mountains surround it on three sides. It has a charming scenery and many cultural relics and historic sites.

Then you will visit Lingyin Temple including the FeiLai Feng. The Fei Lai Feng is situated in the east of Ling Yin Temple. Isolated from others, its stone quality is totally different from that of surrounding mountain groups. It is 167 meters high, on the peak there are many grotesque stones in the shapes of charming dragon, prostrate tiger, walking elephant and scared ape. The main hall of Lingyin Temple is about 34 meters (111 feet) tall - incredibly high for a one-storey building. In the center of the hall you'll find the statue of Sakyamuni Buddha, which was carved from 24 pieces of camphor wood. The temple was named Lingyin Temple for its extremely beautiful environment which is serene and suitable for "Soul's Retreat".
Day 4 Hangzhou / Wuyishan (B, L)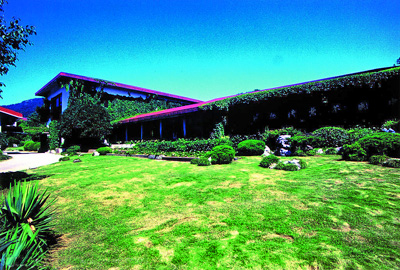 Transfer via: Train on our arrangement
Sightseeing: Chinese Tea Museum, tea farm

Visit Chinese Tea Museum, and visit a tea farm, pick tea (an hour), and see frying tea process. Take an afternoon train to Wuyishan, arrive around midnight, be met and transfer to hotel.
Day 5 Wuyishan (B, L, D)
Sightseeing: Royal Tea Garden

Go to Royal Tea Garden and learn about the history of Oolong Tea, and then visit a tea valley. In the afternoon, you will visit a tea factory to see the whole process of producing Oolong Tea.
Day 6 Wuyishan (B, L, D)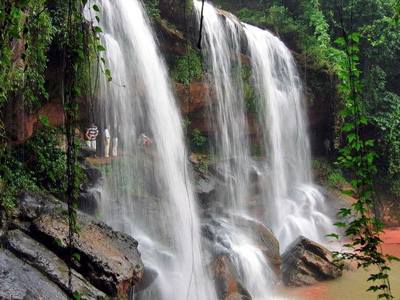 Sightseeing: Water Curtain Cave

Hike from Dahongpao (Red Gown) to Water Curtain Cave, you will see a huge old tea tree. The Water Curtain Cave is the largest rock cavern in Wuyi Mountains, with a slanting top, like upturned eaves. Two streams run down from the top of the cave. Often, the flowing stream water is cut into numerous drops of water by the wind, now moving to the east, now to the west, now getting together, now scattering, and thus forming a moving water curtain.

Continue, you will go to a tea farmer's house to taste special wild mushroom tea.
Day 7 Wuyishan (B, L, D)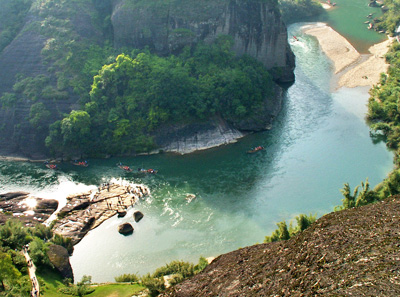 Sightseeing: Tea School, Jiuqu Steam

Visit the tea Professional School and learn about rock tea.

In the afternoon, rafting in Jiuqu Stream.The Jiuqu Stream valley covers 8.5 sq km, with a total length of 9.5km. It takes two hours to tour the valley. The stream water is so clear that you can see the stones at the bottom. The clear stream forms a delightful contrast with the red mountains, with each bend having its own unique landscape. On both sides of the Nine Bend Stream stand grotesque rocks.Along the winding stream, there are both shoals and deep pools. Floating on a bamboo raft along the stream, you may raise your head to appreciate the towering mountains, and lower it to listen to the flowing water, and touch it with your hands.
Day 8 Wuyishan / Beijing (B, L)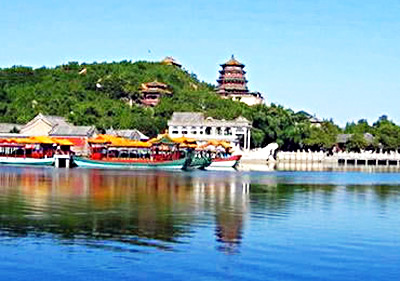 Transfer via: Flight on our arrangement
Sightseeing: Summer Palace

Take a morning flight to Beijing. Be met and transferred to your hotel. Then we will visit the Summer Palace. Equally famous as the Forbidden City, the Summer Palace is called 'Yiheyuan' (Garden of Nurtured Harmony) in Chinese. Until nowadays, it is the best preserved and the largest imperial garden in China. You will regret it if you leave Beijing without having visited this grand imperial garden.
Day 9 Beijing (B, L)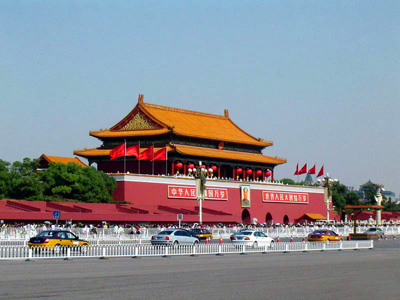 Sightseeing: Temple of Heaven, Tiananmen Square, Forbidden City

This morning our tour will begin with a visit of the Temple of Heaven, which was completed in 1420, and expanded over the years by two Qing Dynasty Emperors. It was the place where the Emperor came every winter solstice to worship heaven and to solemnly pray for a good harvest. With the three blue-tiled cone-shaped roofs, a unique wooden and blue-tiled structure built without a nail, it has become a worldwide symbol of Beijing.

After lunch, we will go on our city tour to visit Tiananmen Square, the symbolical heart of China and gathering place for the masses. It is the biggest public square in the world, which can hold one million people.

From here we will walk across the Golden River Bridge to visit the Forbidden City and experience the ancient Emperor's daily life. For 5 centuries Chinese emperors carried out their administration here. With almost 10,000 rooms, it was the centre of the Ming and Qing dynasties, a massive complex of palaces, pavilions, courtyards and gardens where 24 emperors used to live. Forbidden City was the largest palace in the world, and in the past it was indeed a forbidden place for commoners. Your tour here will include private access to the Emperor's palace.
Day 10 Beijing (B, L)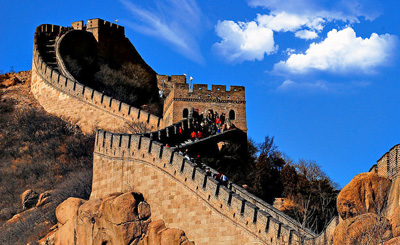 Sightseeing: Badaling Great Wall, Ming Tombs, Sacred Way

After experiencing the royal lifestyle, today we will be transferred to the surrounding countryside of Beijing and visit the Badaling Great Wall, the pride of China and one of the Seven Wonders of the World. Whereas Genghis Khan contemplated it as a military obstacle, Richard Nixon described it as one of humankind's greatest achievements. You will be able to climb and walk one of the best preserved sections of the 2,000 years old ancient wall, admiring the splendid mountain views. Bring a jacket and layer- although it is breezy, the climbing is tough. So be in a good shape!

In the afternoon we will visit the legendary Ming Tombs, which are situated at the foot of Heavenly Longevity Mountain, Changping, northwest of Beijing. Since there are 13 Ming emperors buried there, this place was called the 13 Ming Tombs. You will walk along the Sacred Way, a road guarded by stone statues on both sides, as the ancient emperors did to hold a memorial ceremony for their ancestors. In addition, you will encounter the marble tombs of the Ming Dynasty emperors.

On the way back to hotel, you will be driven to visit the main 2008 Beijing Olympic venues, take an exterior visit of both the Beijing National Stadium (Bird's Nest/Olympic Stadium) and the National Swimming Centre (The Water Cube),feel free to take some photos of the stadiums.
Day 11 Beijing (B, L)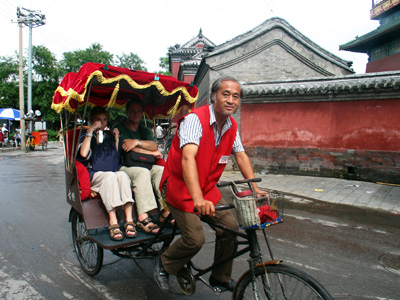 Sightseeing: Hutongs, Free shopping at Wangfujing Shopping Avenue.

We will experience a unique Hutong Tour by taking a rickshaw this morning. Hutongs are a kind of ancient city alley or lane and are very typical for Beijing. Most of them can be found close to the Forbidden City, and many were built during the three dynasties of Yuan, Ming and Qing. Today, the Hutong is a living museum of Beijing history showing the traditional lifestyle of Beijing people.

This afternoon you will be free shopping at Wangfujing Shopping Avenue.
Day 12 Beijing departure (B)
Transfer via: Flight on your own arrangement

Today will be free for your own purposes, until our guide will escort you to the airport for your next destination.