13 Days Picturesque and Classical Gardens China Tour
Tour Code:CCT04
Tour Duration: 13 Days
Tour overview:China's traditional gardens are truly breathtaking and this China tour showcases them. You will also get to see some of the most exciting and cultural cities in China. You will begin in Beijing, China's capital. You will see such spectacular sites as; the Forbidden City, Great Wall, and Temple of Heaven. You will then visit Huangshan (Yellow Mountain), known as one of the most beautiful mountains on earth. You will then visit the city of Hangzhou, famous for its Dragon Well Tea. You will then visit Suzhou. Filled with traditional Chinese gardens, Suzhou is a wonderful destination. You will then visit Shanghai, which has a culture which blends Chinese and Western culture.
Tour Price:2-5 pax (Tourist Class) : USD1343 per person
Day by Day Itinerary
Day 1 Arrival Beijing
Transfer via: Flight on your own arrangement

Upon your arrival, our local guide will meet you and escort you to your hotel. Then you will spend the rest of the day at your leisure, or resting and catching up on your jet lag.
Day 2 Beijing (B, L)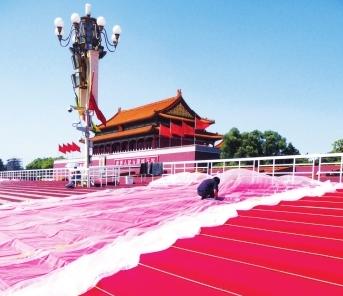 Sightseeing: Temple of Heaven, Tiananmen Square, Forbidden City

This morning our tour will begin with a visit of the Temple of Heaven, which was completed in 1420, and expanded over the years by two Qing Dynasty Emperors. It was the place where the Emperor came every winter solstice to worship heaven and to solemnly pray for a good harvest. With the three blue-tiled cone-shaped roofs, a unique wooden and blue-tiled structure built without a nail, it has become a worldwide symbol of Beijing. In the park nearby local people practice Tai Chi or sing and dance relaxingly. They will invite you to join in with these activities which will become a very worthwhile and unforgettable experience.

After lunch, we will go on our city tour to visit Tiananmen Square, the symbolic heart of China and gathering place for the masses. It is the biggest public square in the world, which can hold one million people.

From here we will walk across the Golden River Bridge to visit the Forbidden City and experience the ancient Emperor's daily life. For 5 centuries Chinese emperors carried out their administration here. With almost 10,000 rooms, it was the centre of the Ming and Qing dynasties, a massive complex of palaces, pavilions, courtyards and gardens where 24 emperors used to live. (Also Bertolucci's film "The Last Emperor" was produced here). Forbidden City was the largest palace in the world, and in the past it was indeed a forbidden place for commoners. Your tour here will include private access to the Emperor's palace.
Day 3 Beijing (B, L)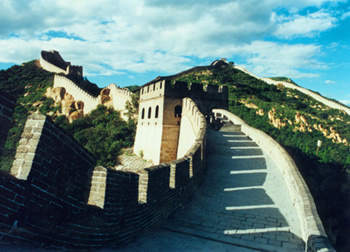 Sightseeing: Badaling Great Wall, Ming Tombs, Sacred Way

After experiencing the royal lifestyle, today we will be transferred to the surrounding countryside of Beijing and visit the Badaling Great Wall, the pride of China and one of the Seven Wonders of the World. Whereas Genghis Khan contemplated it as a military obstacle, Richard Nixon described it as one of humankind's greatest achievements. You will be able to climb and walk one of the best preserved sections of the 2,000 years old ancient wall, admiring the splendid mountain views. Bring a jacket and layer- although it is breezy, the climbing is tough. So be in a good shape!

In the afternoon we will visit the legendary Ming Tombs, which are situated at the foot of Heavenly Longevity Mountain, Changping, northwest of Beijing. Since there are 13 Ming emperors buried there, this place was called the 13 Ming Tombs. You will walk along the Sacred Way, a road guarded by stone statues on both sides, as the ancient emperors did to hold a memorial ceremony for their ancestors. Finally, you will encounter the marble tombs of the Ming Dynasty emperors and visit one of the spectacular tombs, indeed an underground palace.

On the way back to hotel, you will be driven to visit the main 2008 Beijing Olympic venues, take an exterior visit of both the, Beijing National Stadium (Bird's Nest/Olympic Stadium), National Swimming Centre('The Water Cube'),feel free to take some photos of the stadiums.
Day 4 Beijing / Huangshan (B, L)
Transfer via: Flight on our arrangement

This day will be free at your own leisure today until our guide will escort you to the airport for your flight to Huangshan.

After your arrival in Huangshan, you will be met and transferred to the hotel, to enjoy some leisure time for the rest of the day.
Day 5 Huangshan (B, L,)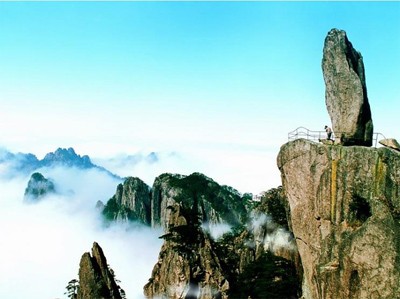 Sightseeing: Mt. Huangshan

In the morning, you will be transferred to the foot of Mt. Huangshan, take cable car to the top of it and make a tour to North Sea Scenic Area and other peaks. This night, you will stay on top of the mountain.

Mt. Huangshan, known as "the loveliest mountain in China", is famous for its magnificent scenery made up of many granite peaks and rocks emerging out of clouds. Its landscape features "four wonders" of imposing peaks, spectacular rocks, odd-shaped pines, and a sea of clouds. Mount Huangshan boasts 72 peaks, more than 1,000 meters above sea level, with three main peaks rising majestically. The famous Welcoming Guests (Yingke) Pine (1,500 years old) and See-Guest-Off Pine have become a symbol of being faithful, unyielding and hospitable.
Day 6 Huangshan (B, L)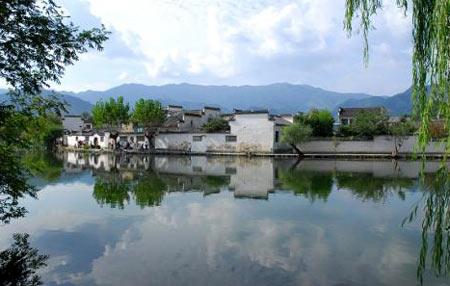 Sightseeing: Xidi and Hongcun Ancient Villages

This morning you will enjoy the famous Huangshan sunrise. Afterwards we'll take a cable car down the mountain and continue to visit Xidi Ancient Village. First built 900 years ago in Song Dynasty, its traditional architecture is still well preserved. The buildings and the street patterns reflect the socio-economic structure of a long-lived settled period of Chinese history.

Our next stop will be Hongcun Ancient Village: Being an over 800 years old town leaning against Mt. Huangshan, it is folded in the fog of the Mountain which makes it look like a river. You will see that it is as beautiful as a Chinese landscape drawing. The famous film "Crouching Tiger" was produced here.
Day 7 Huangshan / Hangzhou (B, L)
Sightseeing: West Lake

In the morning, you will be transferred to the bus station and take the express bus to Hangzhou. There, you will be met by our local guide and visit beautiful West Lake with him. We will take a cruise boat across the lake to see the 3 pagodas in the lake. The West Lake is the most famous tourist spot of Hangzhou. Graceful mountains surround it on three sides. It has a charming scenery and many cultural relics and historic sites.
Day 8 Hangzhou (B, L)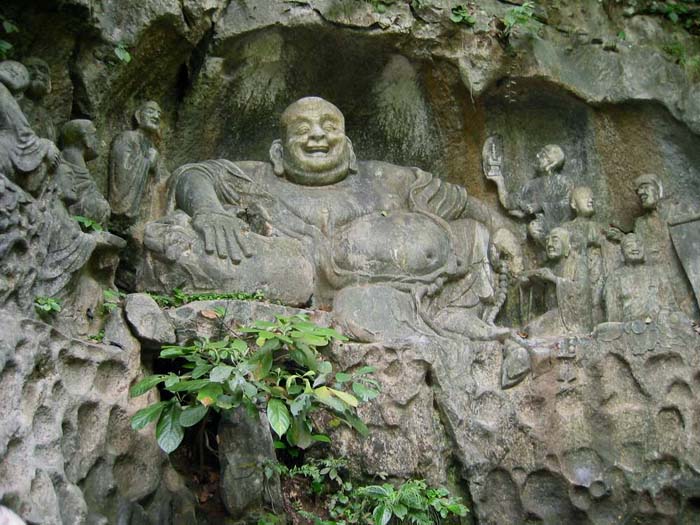 Sightseeing: FeiLai Feng, Ling Yin Temple (Temple of Soul's Retreat),Six Harmonies Pagoda, Dragon Well Tea Plantation

Today you will visit Lingyin Temple including the FeiLai Feng. The Fei Lai Feng is situated in the east of Ling Yin Temple. Isolated from others, its stone quality is totally different from that of surrounding mountain groups. It is 167 meters high, on the peak there are many grotesque stones in the shapes of charming dragon, prostrate tiger, walking elephant and scared ape. The main hall of Lingyin Temple is about 34 meters (111 feet) tall - incredibly high for a one-storey building. In the center of the hall you'll find the statue of Sakyamuni Buddha, which was carved from 24 pieces of camphor wood. The temple was named Lingyin Temple for its extremely beautiful environment which is serene and suitable for "Soul's Retreat".

After having lunch at local restaurant, we will drive to the Six Harmonies Pagoda, highly erected next to Qiantang River and in the south of the West Lake. It is a perfect examplel of brick-and-wood structure built in ancient China and was built in 970 AD in the Northern Song dynasty (960-1127) to press down the evil of the river tidal bore in Qiantang River.

Dragon Well Tea is well known worldwide, so you will be guided to the Dragon Well Tea Plantation to discover the history of Chinese tea and the tea ceremony. The water of dragon well is sweet and of good taste. The green tea here enjoys very high reputation since Ming Dynasty (1368-1644 A.D) for its four special features: green color, fragrant aroma, sweet taste and smooth appearance. Finally you will be transferred back to your hotel.
Day 9 Hangzhou / Suzhou (B, L)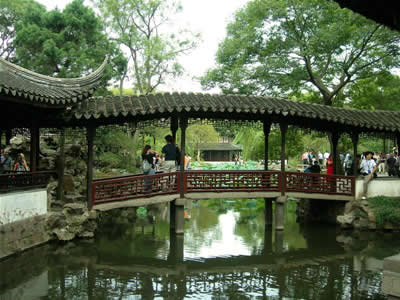 Transfer via: soft seat train arranged by us
Sightseeing: Humble Administrator's Garden, Tiger Hill

In the morning you will be escorted to the railway station to take the express train to Suzhou. Suzhou is praised as the "Oriental Venice" and called a "paradise on earth".

Upon your arrival in Suzhou, our guide will meet you and escort you to a local restaurant to have lunch. In the afternoon you will visit Humble Administrator's Garden, the largest classical garden in Suzhou and one of the four most famous ones in China. Originally built in 1513 AD, it consists of three parts with different types of buildings around streams and ponds.

Then we will move on to Tiger Hill (Huqiu). Tiger Hill is the most famous sight in Suzhou city, enjoying the reputation of "The first scenic spot in Wu area" due to its imposing beauty; This includes Leisure Spring, Testing Sword Rock, Third Spring, Broken-Pillar-Hall and Mountain Villa Wrapped in Emerald Green etc. With only 36 meters of height and an area of 20hectares, you might think it to be an artificial hill, but its history can be traced back 2500 years ago.
Day 10 Suzhou (B, L)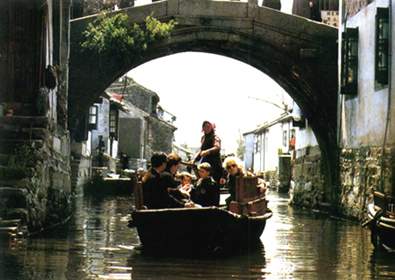 Sightseeing: Lingering Garden (Garden to linger in), Lion Grove, The Grand Canal, The No.1 Silk Factory, Panmen Scenery Area

Toady we will visit the most classical gardens of China. Our first stop will be Lingering Garden, one of the four most famous gardens of China. The garden is celebrated for its artistic way of handling the spaces between various architectural forms and garden courts. With pavilions, terraces, grotesque rocks, clear streams and rare vegetations, the corridors separate the garden into several courtyards with distinct styles.

Lion Grove is one of the four noted gardens of Suzhou. It was first built in 1342 during Yuan Dynasty (1279-1368) and is truly exquisite in design. When entering the garden, the you will find stones in various interesting shapes.

Afterwards, we will visit the Grand Canal. As well as the Great Wall, it ranks as the country's greatest engineering achievement and it is the longest man-made waterway in world. Cruising on the Canal, you will see the local peoples' life.

As Suzhou is also famous for its silk production we will spend some time in the No.1 Silk Factory to see how silk is processed from the silk worm to the final woven cloth.

Finally we will stop at Pan Gate which is an ancient city gate with land and water entrances. Gates with land and water entrances were quite typical in ancient China. Pan Gate is the only one left.
Day 11 Suzhou / Shanghai (B, L)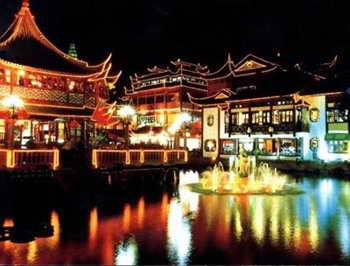 Transfer via: soft seat train arranged by us
Sightseeing: the Bund, Nanjing Road

In the morning, you will have some leisure time until you will be transferred to the railway station by our guide and take the express train to Shanghai.

After your arrival you will be met by our local guide and visit the Bund. Take a walk along the waterfront and experience the smells, sights and sounds of the old "Wall Street" in Shanghai. Actually, some people say that the Bund is like "an exhibition of buildings". Finally we will walk along the famous pedestrian street-Nanjing Road, known as "China's No.1 Shopping Street". In the evening you will watch a breathtaking Acrobatic Show.
Day 12 Shanghai (B, L)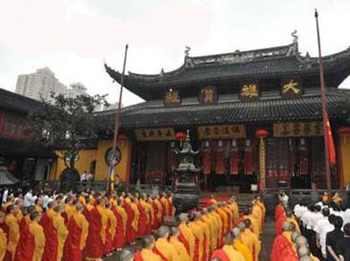 Sightseeing: Shanghai Museum, Oriental Pearl TV Tower, Jade Buddha Temple, Yuyuan Garden

Today we will start with a visit of Shanghai Museum which is the biggest museum of China. It incorporates a collection of over 120,000 pieces of Chinese art & cultural relics and is especially famous for its treasures of bronzes, ceramics, paintings and calligraphy.

Then we head to the Jade Buddha Temple. The old-time and classical architectural style makes the temple unique and inimitable in this modern city. Both, the Sitting Buddha and the Recumbent Buddha are carved with whole white jade. If you're lucky, you can watch the monks serving a ceremony in a side room.

After lunch, we will visit the Oriental Pearl Tower, the highest TV Tower in Asia, which creates a picture of twin dragons playing with pearls'. The entire scene is a photographic jewel that excites the imagination and attracts thousands of visitors all year-round.

Then we will take a relaxing walk to the lovely Yuyuan Garden, a beautiful garden in the south of the Yangtze River. Wandering through it, you will find pavilions, corridors, streams, courtyards as well as many other natural features.
Day 13 Departure Shanghai (B)
Transfer via: Flight on your own arrangement

Today will be free for your own purposes, until our guide will escort you to the airport for your next destination.
Tour Price
Season
Tour Class
Group Size
Single Room
Supplement
1pax
2-5pax
6-9pax
Peak Season
3*(Tourist Class)
$2864
$1690
$1343
$448
4*(Deluxe Class)
$3248
$1882
$1535
$640
5*(First Class)
$3812
$2164
$1817
$922