7 Days Shanghai-Chengdu-Shanghai Giant Panda Tour
Tour Code:CWT15
Tour Duration: 7 Days
Tour overview:The giant panda is the national treasure of China, which is temprate and lovely. Walking into Chengdu you will have intimate contact with them. Besides, there are also many others to visit in Chengdu and Shanghai. So what are you waiting for?
Day by Day Itinerary
Day 1 Arrive in Shanghai
Transfer via: Flight on your own arrangement

Arriving in Shanghai, you will be met and transferred to your hotel by our local guide. The rest of the day will be free for your own purposes.
Day 2 Shanghai (B, L)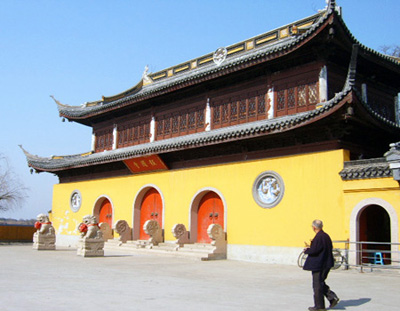 Sightseeing: Nanjing Road, the Bund, Yuyuan Garden, Jade Buddha Temple

In the morning you will take a walk to the famous Nanjing Road and the Bund. They are among the most recognizable architectural symbols of Shanghai and therefore a must-see when visiting Shanghai.

Then we will take another relaxing walk to the lovely Yuyuan Garden, a beautiful garden in the south of the Yangtze River. Wandering through it, you will find pavilions, corridors, streams, courtyards as well as many other natural features.

Finally we head to the Jade Buddha Temple. The old-time and classical architectural style makes the temple unique and inimitable in this modern city. Both, the Sitting Buddha and the Recumbent Buddha are carved with whole white jade. If you're lucky, you can watch the monks serving a ceremony in a side room.
Day 3 Shanghai (B, L)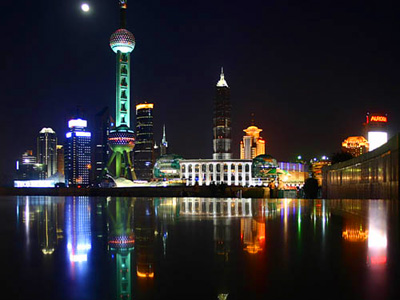 Sightseeing: Shanghai Museum, Oriental Pearl Tower,Shanghai French Concession

Today you will visit Shanghai Museum which is the biggest museum of China. It incorporates a collection of over 120,000 pieces of Chinese art & cultural relics and is especially famous for its treasures of bronzes, ceramics, paintings and calligraphy.

After lunch, we will visit the Oriental Pearl Tower, the highest TV Tower in Asia, which creates a picture of 'twin dragons playing with pearls'. The entire scene is a photographic jewel that excites the imagination and attracts thousands of visitors all year-round.

Then we will visit the Shanghai French Concession, which was a foreign concession in Shanghai, Republic of China from 1849 until 1946. The area covered by the former French Concession was once the premier residential and retail districts of Shanghai, and was also the centre of Catholicism in Shanghai.
Day 4 Shanghai / Chengdu (B, L)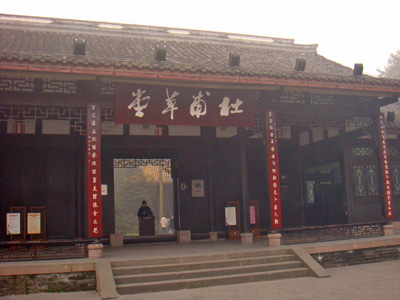 Transfer via: Flight on our arrangement
Sightseeing: Dufu's Thatched Cottage, Wangjianglou Park

This morning, you will be transferred to airport to take flight and fly to Chengdu. After your arrival in Chengdu, you will be met and transferred to your hotel by our local guide.

After a short rest, we will head to the Thatched Cottage of Dufu, located by the side of the Huanhua Stream in Chengdu's western suburb, will be our first stop today. It was the residence of Dufu, the great poet of the Tang Dynasty when he took refuge in Chengdu. Du Fu (712-70 AD),one of China's most famous poets, left home at the tender age of 20, becoming a court official at the former capital in Chang'an (near Xi'an). Du Fu's civil service duties did not last long however, and he was captured by rebels and forced to flee the city for Chengdu after only a few years. It was in Chengdu, at this small and simple house, that Du Fu was inspired to write more than 200 poems which are regarded today as masterpieces of realist poetry.

Then we will take a walk around Wangjianglou Park, and enjoy the beautiful nature there.
Day 5 Chengdu (B, L)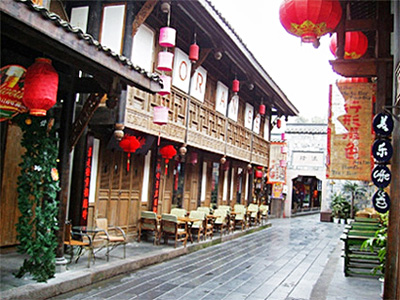 Sightseeing: Chengdu Research Base of Giant Panda Breeding, Wuhou Memorial Temple, Jinli Street

Today we will visit the Chengdu Panda Breeding Research Base, which was built to imitate the wild ecological environment of pandas. It covers a space of 92 acres, with a green coverage of 96 percent. The base created a perfect ecological environment for the living and breeding of pandas and other precious and rare wild animals. It breeds over 20 pandas and lesser pandas, black-necked cranes, white cranes and others.

And then you will visit the Wuhou Memorial Temple. The Temple is dedicated to Zhuge Liang, the Martial Marquis of Shu in the Three Kingdoms. His outstanding intelligence place Zhuge Liang above all emperors, generals, and ministers in history.

Afterwards you will take a walk along Jinli Street which is particularly representative for this city. It is recorded that as already during Qin Dynasty (221 BC - 206 BC), Jinli Street was the most famous place for baldachin - a rich, ornate cloth. During Shu Kingdom (221-263) it was one of the busiest commercial streets. Hence, it is known as 'First Street of the Shu Kingdom'. In order to reclaim the street's prosperity of former days, it was restored with contributions from the Wuhou Memorial Temple and was opened to public in October of 2004.
Day 6 Chengdu / Shanghai (B)
Transfer via: flight on our arrangement

Today you can enjoy some leisure time until your guide will pick you up and transfer you to the airport to take the flight to Shanghai. Upon arriving, you will be met by your Shanghai tour guide and then be transferred to your hotel. Free at leisure the rest of the day.
Day 7 Shanghai / Departure (B)
Transfer via: Flight on your own arrangement

Today will be free for your own purposes, until our guide will escort you to the airport for your next destination.