15 Days China History Experience Tour with Ancient Silk Road Cities
Tour Code:CTT16
Tour Duration: 15 Days
Tour overview:Discovery the incredible views of China as they pass by the window of your soft sleeper train car in this incredible China train tour. You will travel through the major trading cities on the ancient Silk Road, beginning in Xian, and traveling through to Urumqi. The culture and people of China's section of the Ancient Silk Road are so unlike other parts of China. Their colorful traditions make these cities very special.
Day by Day Itinerary
Day 1 Beijing Arrival
Transfer via: Flight on your own arrangement

Upon your arrival in Beijing, our local guide will meet you and escort you to your hotel. Then you will spend the rest of the day exploring the nearby streets, or resting and catching up on your jet lag.
Day 2 Beijing (B, L)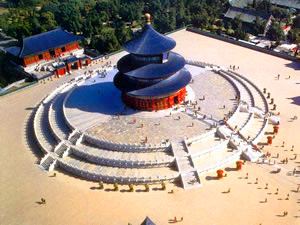 Sightseeing: Temple of Heaven, Tiananmen Square, Forbidden City

This morning our tour will begin with a visit of the Temple of Heaven, which was completed in 1420, and expanded over the years by two Qing Dynasty Emperors. It was the place where the Emperor came every winter solstice to worship heaven and to solemnly pray for a good harvest. With the three blue-tiled cone-shaped roofs, a unique wooden and blue-tiled structure built without a nail, it has become a worldwide symbol of Beijing. In the park nearby local people practice Tai Chi or sing and dance relaxingly. They will invite you to join in with these activities which will become a very worthwhile and unforgettable experience.

After lunch, we will go on our city tour to visit Tiananmen Square, the symbolic heart of China and gathering place for the masses. It is the biggest public square in the world, which can hold one million people.

From here we will walk across the Golden River Bridge to visit the Forbidden City and experience the ancient Emperor's daily life. For 5 centuries Chinese emperors carried out their administration here. With almost 10,000 rooms, it was the centre of the Ming and Qing dynasties, a massive complex of palaces, pavilions, courtyards and gardens where 24 emperors used to live. (Also Bertolucci's film "The Last Emperor" was produced here). Forbidden City was the largest palace in the world, and in the past it was indeed a forbidden place for commoners. Your tour here will include private access to the Emperor's palace.
Day 3 Beijing (B, L)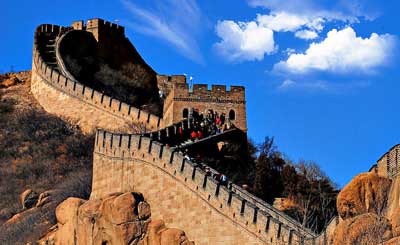 Sightseeing: Badaling Great Wall, Ming Tombs, Sacred Way

After experiencing the royal lifestyle, today we will be transferred to the surrounding countryside of Beijing and visit the Badaling Great Wall, the pride of China and one of the Seven Wonders of the World. Whereas Genghis Khan contemplated it as a military obstacle, Richard Nixon described it as one of humankind's greatest achievements. You will be able to climb and walk one of the best preserved sections of the 2,000 years old ancient wall, admiring the splendid mountain views. Bring a jacket and layer- although it is breezy, the climbing is tough. So be in a good shape!

In the afternoon we will visit the legendary Ming Tombs, which are situated at the foot of Heavenly Longevity Mountain, Changping, northwest of Beijing. Since there are 13 Ming emperors buried there, this place was called the 13 Ming Tombs.

You will walk along the Sacred Way, a road guarded by stone statues on both sides, as the ancient emperors did to hold a memorial ceremony for their ancestors. Finally, you will encounter the marble tombs of the Ming Dynasty emperors and visit one of the spectacular tombs, indeed an underground palace.
Day 4 Beijing to Xi'an (B, L)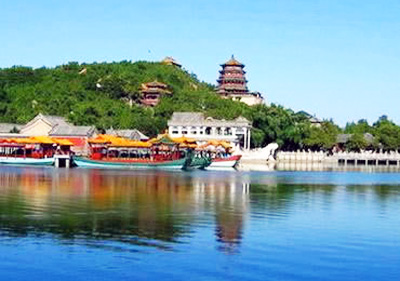 Transfer via: Overnight train (soft sleeper class)-on our arrangement
Sightseeing: Hutong Rickshaw Tour, Xiushui Street, Summer Palace

We will experience a unique Hutong tour by taking a men-driven rickshaw this morning. Hutongs are a kind of ancient city alley or lane and are very typical for Beijing. Most of them can be found close to the Forbidden City, and were built during the three dynasties of Yuan, Ming and Qing. Today, the Hutong is a living museum of Beijing history showing the traditional lifestyle of Beijing people. We will make stops to visit a local family and experience how the people of Beijing live.

Then we will visit the Xiushui Street, which is a market located nearby the embassy area where you can find a number of duplicates of clothing in traditional Chinese style. Here you will mingle with Beijing people, overseas and local art dealers as well as farmers who import goods from the countryside. Therefore you may find some interesting things and enjoy your bargaining with shopkeepers.

After having lunch at a local restaurant, you can spend the whole afternoon to visit the famous royal garden-Summer Palace. In 1888, the notorious Empress Cixi used the money intended for the Chinese Navy to build this opulent summer retreat for herself. Have a lakeside cruise on the lovely Kunming Lake and enjoy the magical views of the temples, pavilions and covered corridors around. Late in the evening you will be transferred to the railway station for your overnight train to Xi'an.
Day 5 Xi'an (B, L)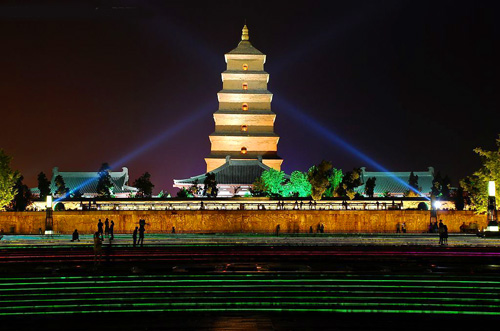 Sightseeing: Ancient City Wall, Bell Tower, Big Wild Goose Pagoda

This morning you will arrive in Xi'an, one of the most important cities in China's history. Being the first stop on the Silk Road, Xi'an was the first Chinese city which opened up its doors to the Ancient world since Tang dynasty. You will be met at the railway station and then visit the Ancient City Wall You will experience a half-hour's hike along the Ancient City Wall. It is the largest and best preserved present city wall in ancient China and is probably the best military battlement in the world. If you want to, you can rent a bicycle for a ride on top of the spectacular city wall. The wall was built in the Tang dynasty (618 -907) and enlarged in the Ming dynasty (1368-1644).

Then we will go on to visit the Bell Tower, which is the best-preserved and best-known one among many. The Bell Tower was built in 1384. In early mornings of ancient times it had the mission of ringing the bell and giving the correct time to the whole city, hence called "The Bell Tower". With magnificent carved beams and painted rafters, this classical building is truly elegant.

Our last stop today will be the Big Wild Goose Pagoda. Situated in the south of Xi'an city, it is one of the main constructions in the famous Buddhist temple-Da-Ci-En Temple. There, the well-known Buddhist Master Xuanzang (Monk Tripitaka) stored his collection of classic Buddhist artifacts brought from India in Tang Dynasty. Now it is the Landmark of Xi'an.
Day 6 Xi'an to Tianshui to Lanzhou (B, L, D)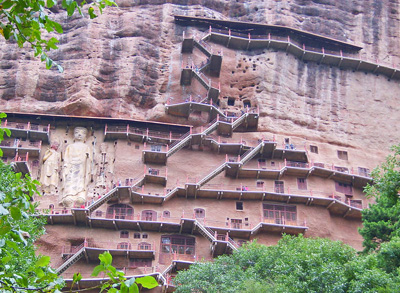 Transfer via: Train / Overnight train –on our arrangement
Sightseeing: Mount Maiji Grottoes

After breakfast, you will be transferred to railway station to take train for Tianshui. Arrive at Tianshui railway station around 12:00, then be met and transferred to have lunch.

After lunch, drive to visit Mount Maiji Grottoes. 30 km southeast of Tianshui City, the Mount Maiji Grottoes are one of the Four Great Buddhist Grottoes in China. (The other three are the Mogao Grottoes in Dunhuang, Gansu Province, the Longmen Grottoes in Luoyang, Henan Province and the Yungang Grottoes in Datong, Shanxi Province).

In the evening, you will be transferred to Tianshui railway station to take overnight train for Lanzhou (train depart Lanzhou railway station around 23:25pm).
Day 7 Lanzhou / Jiayuguan (B, L, D)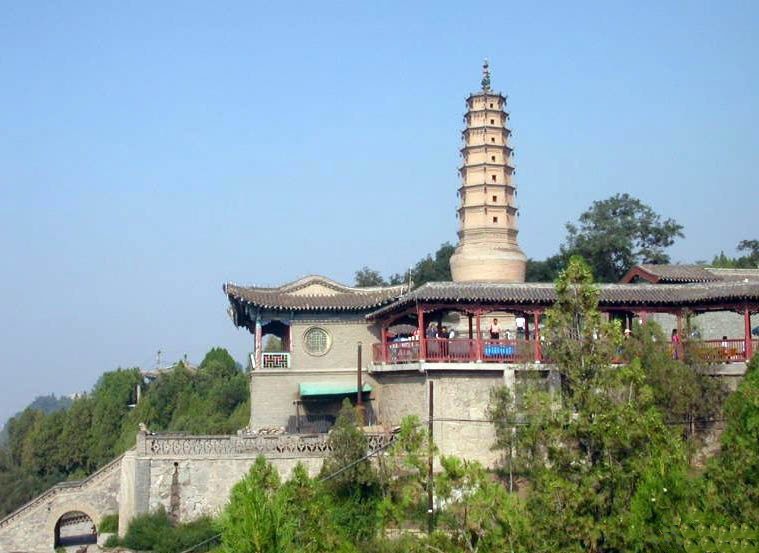 Transfer via: Overnight train –on our arrangement
Sightseeing: White Pagoda Hill, Gansu Provincial Museum, Ancient Water Mill, Yellow River Iron Bridge

Arrive in Lanzhou this morning, you will be greeted by your local guide.

Today we will first visit White Pagoda Park. Located on the north bank of the Yellow River with a white pagoda temple on its height, it is a large, quiet area for strolling. The pagoda is structured in 7 terraces with an octagonal body and 17-meter in height. Golden City Pass and Jade Folding Pass are at the foot of the Hill.

Then we will visit the Gansu Provincial Museum. It has an excellent selection of exhibits relating to Gansu and the Silk Road. 75,000 cultural relics including natural resources and historical exhibits are exhibited here.

Continue, we will visit to Ancient Water Mill. Water Mill is a kind of ancient implement for irrigating at past. This Mill Wheel was imitated by Lanzhou Government for reappearance. It is made up of Waterwheel with double wheels, round weir, water grindery and Kursaal.

Also we will have a visit to the Yellow River Iron Bridge.

The overnight train from Lanzhou to Jiayuguan depart around 20:35pm.
Day 8 Jiayuguan (B, L, D)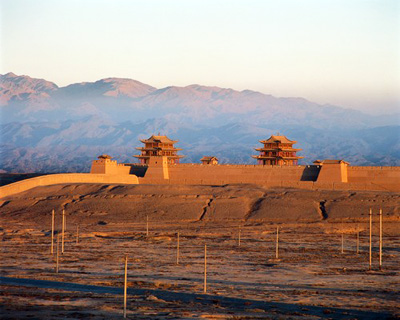 Sightseeing: Jiayuguan Pass, Wei-jin Mural Tombs, Suspension Great Wall

This morning, you will be drive from Zhangye to Jiayuguan (around 3.5 hours) .

And then visit Jiayuguan Pass, Located in the western end of Hexi Corridor in Gansu Province, Jiayuguan Pass is the main part of the western end of the Great Wall built in the Ming Dynasty. It has been the first pass of Hexi region since ancient times.

Wei-jin Mural Tombs, located about 15 kilometers northeast of Jiayuguan, Wei-Jin Mural Brick Tomb is a big tomb group with over 1,400 tombs built between the 3rd Century and 5th Century during the Wei and Jin dynasties. Renowned as the largest subterranean art gallery in the world, housing a great deal of colorful murals, the gallery has attracted tourists from both home and abroad since 1972 when it was excavated. Most tombs are of families, housing bodies of three or four generations, and now only Grave 6 and Grave 7 are open for tourism.

Suspension Great Wall was built during the Ming Dynasty (1368-1644). Work began on it in 1539, and was completed in the following year. It was built using layer upon layer of stone and yellow earth. In subsequent years, the wall has dwindled from its original length of 1.5 kilometers (0.93 miles) to its current 750 meters (2, 460 feet).The Overhanging Wall gets its name because there is a 231 meter long section, with an obliquity of 45 degrees, built onto a 150m high ridge. From a distance, it is said to resemble a dragon about to extend its body towards the ground.
Day 9 Jiayuguan / Dunhuang (B, D)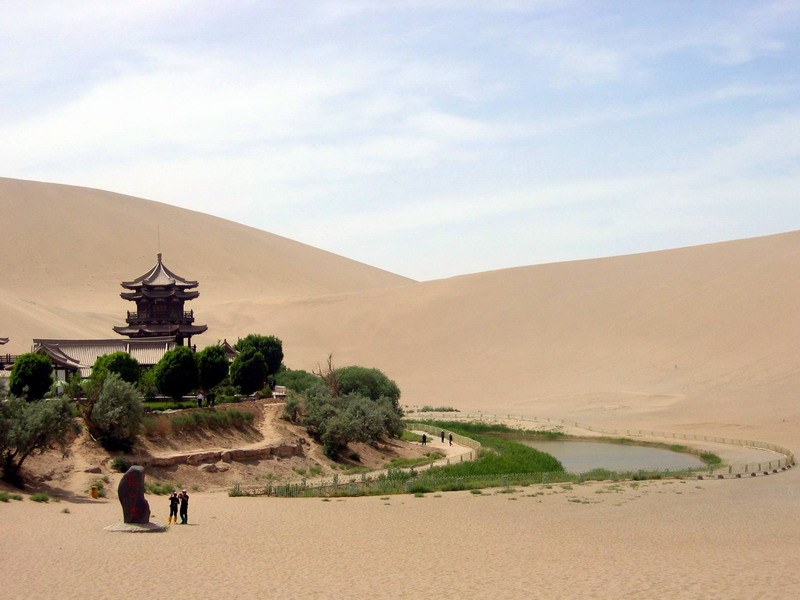 Transfer via: Train –on our arrangement
Sightseeing: Echoing-Sand Dune, Crescent Lake

After breakfast, you will be transferred to railway station to take train for Dunhuang. Upon arriving, be met and transferred to your hotel.

Then you will experience a short camel-riding along the Echoing-Sand Dune to the Crescent Lake, who is a nature miracle coexist with the desert for thousand of years. The lake and the Echoing-Sand Dune which can make sounds when the wind passes are located in the place where the sand and the oasis meet.
Day 10 Dunhuang / Turpan (B, L, D)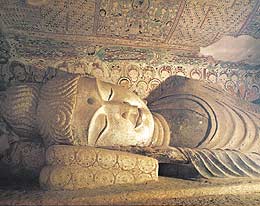 Transfer via: Overnight train – on our arrangement
Sightseeing: Mogao Grottoes, Dunhuang Museum

After breakfast, we will drive to Dunhuang Mogao Caves, also known as "Thousand Buddha Grottoes". They are located at the rock side of the Singing Sand Mountain in Dunhuang city of Gansu Province. The 3 or 4 tier grottoes extend 1.6 kilometers. According to historical records, the Mogao Caves were carved in 366 AD. There are 492 grottoes in existence with some 45,000 square meters of murals, and 415 painted clay figures.

Then visit Dunhuang Museum. It is a local museum for housing the cultural relics that were excavated in the Dunhuang area. Now there are over 4000 historical items contained in the museum. The museum is divided into four exhibition halls.

Later of this day, you will be transferred to railway station to take overnight train for Turpan.
Day 11 Turpan (B, L, D)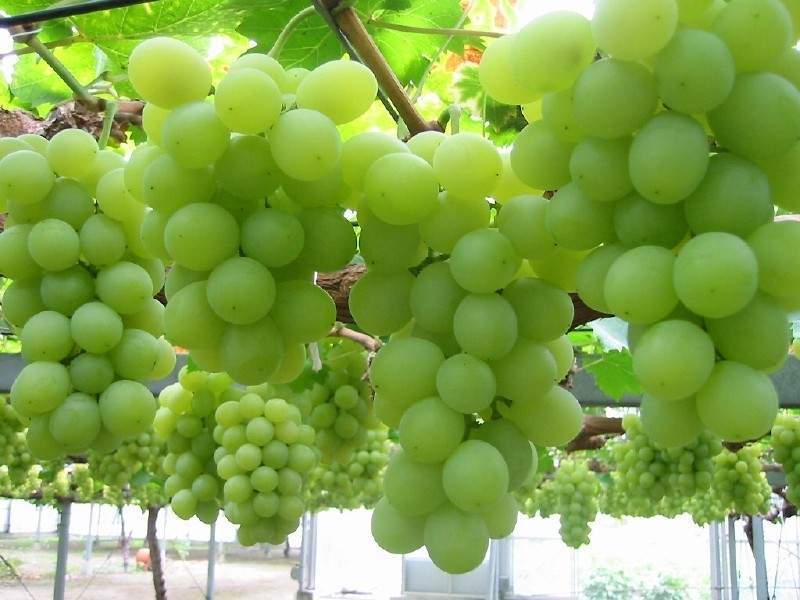 Sightseeing: Jiaohe Ruins, Karez Well, Grape Valley

Early morning arrive in Turpan, be met and transferred to your hotel in Turpan. After a short rest, start the city tour to s explore the Jiaohe Ruins, the remains of an ancient walled capital of the Uighur with its large monastery and palace. It is probably the same size as Gaochang but better preserved. UNESCO has contributed to its preservation. The dry weather has helped city preserve its cityscape. It is a life-sized model of a Tang Dynasty city.

Move on to visit Ancient Karez System.The entire Turpan region has for 2000 years relied upon the Karez underground irrigation system for sustenance; There is currently one karez well site open for exhibition. It is complete with a museum of displays and pictures. It is a good way to get an understanding of how the tunnels were dug.

Then we will proceed to visit Grape Valley. Lying at the base of the western end of Flaming Mountains, Grape Valley is a unique world of vineyards and fruit trees. you can sit in the shades and sip the local wines to kill a brutally hot afternoon.
Day 12 Turpan (B, L, D)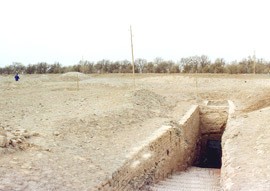 Sightseeing: Astana Tomb, Passing by Flaming Mountain to Visit the Bezkelik Thousand Buddha Caves, Sugong Pagoda

Today you will visit to The Astana Tomb, which is located in the Gobi Desert and 6km from the Gaochang Ancient City. Astana means capital in Uygur. Covering an area of 10 square kilometers, the tombs were the public cemetery of the ancient Gaochang residents, both aristocrats and commoners.

Passing by Flaming Mountain to Visit the Bezeklik Thousand Buddha Caves, once an important Buddhist site with many caves covered with brightly painted murals, Bezeklik means "place of paintings" in Uighur. The caves were hewn into the cliffside, and large murals, Monks used to live inside the caves and the frescoes here clearly represent the life work of generations of devotees. Unfortunately, this place was damaged by the locals who converted to Islam in the 10th century and looted by the western archaeologists in the early 20th century.

Move on to visit Emin Minaret. The Emin Minaret also called Sugong Pagoda is located 2km east of Turpan city. The whole place is composed of the pagoda and a mosque. The Emin minaret tower was built in 1778 by the local Muslim ruler, Emin Hoja. The minaret was built in a simple Islamic style, 44 meters in height, and 10 meters in diameter at the base. Be transferred to the railway station to take overnight train to Dunhuang.
Day 13 Turpan / Urumqi (B, L, D)
Transfer via: Car-on our arrangement
Sightseeing: Heavenly Lake, boat cruising

This morning, you will take three hours' ride from Turpan to Urumqi. After lunch, you will head to visit the Heavenly Mountain (Tianshan): it is surrounded by green pastures and pristine conifer forests. Snowy Alp-like peaks soar to great heights and enclose the lake. Take a boat ride on Heavenly Lake and escape into a peaceful, dream-like world.

Transferred back to the city of Urumqi.
Day 14 Urumqi (B, L, D)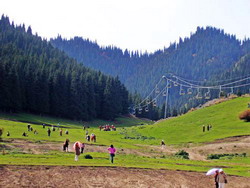 Sightseeing: Nanshan Pasture, Terai Camp

Today you will explore the Nanshan Pasture. The Nanshan Pasture is located in Kelawucheng Mountain, a branch of north Heavenly Mountain. Moreover, there are numerous valleys in the pasture. It is cool here in the summer, and is a good place to get away from the heat. You can ride a horse or a camel running through the valleys, walk across the woods picking mushrooms and enjoying the magical wild flowers, you also can climb up the mountain to overlook.

Then continue to visit the Terai Camp to experience the Kazak nomadic life and taste delicious Xinjiang Cruise – milk tea and mutton.
Day 15 Urumqi / Departure (B)
Transfer via: Flight-on our arrangement

Free at leisure until be met and transferred to the airport for the flight to your destination.