15 Days Fantastic China & Tibet Discovery Tour
Tour Code:CTT04
Tour Duration: 15 Days
Tour overview:Each day is packed full of history in this very special train tour. You will see the Imperial grandeur of Beijing, the Terracotta Warriors in Xian, the Buddhist Temples and monasteries of Tibet, and the metropolis of Shanghai. Each part of this China train tour is really special. Traveling around China by train is a wonderful and affordable way to travel around China. You will get to mingle with locals, and see many things that cannot be seen via air.
Day by Day Itinerary
Day 1 Beijing Arrival
Transfer via: Flight on your own arrangement

Upon your arrival, our local guide will meet you and escort you to your hotel. Then you will spend the rest of the day exploring the nearby streets, or resting and catching up on your jet lag.
Day 2 Beijing (B, L)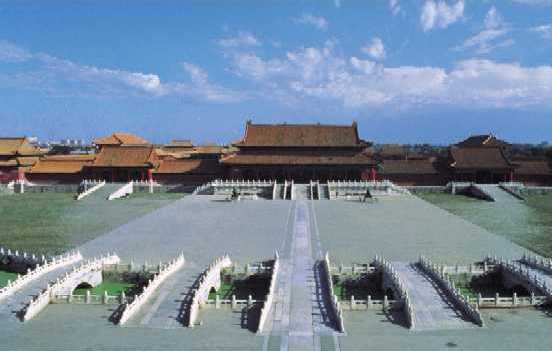 Sightseeing: Temple of Heaven, Beijing-Tiananmen Square, Forbidden City

This morning our tour will begin with a visit of the Temple of Heaven, which was completed in 1420, and expanded over the years by two Qing Dynasty Emperors. It was the place where the Emperor came every winter solstice to worship heaven and to solemnly pray for a good harvest. With the three blue-tiled cone-shaped roofs, a unique wooden and blue-tiled structure built without a nail, it has become a worldwide symbol of Beijing. In the park nearby local people practice Tai Chi or sing and dance relaxingly. They will invite you to join in with these activities which will become a very worthwhile and unforgettable experience.

After lunch, we will go on our city tour to visit Tiananmen Square, the symbolic heart of China and gathering place for the masses. It is the biggest public square in the world, which can hold one million people.

From here we will walk across the Golden River Bridge to visit the Forbidden City and experience the ancient Emperor's daily life. For 5 centuries Chinese emperors carried out their administration here. With almost 10,000 rooms, it was the centre of the Ming and Qing dynasties, a massive complex of palaces, pavilions, courtyards and gardens where 24 emperors used to live. (Also Bertolucci's film "The Last Emperor" was produced here). Forbidden City was the largest palace in the world, and in the past it was indeed a forbidden place for commoners.
Day 3 Beijing (B, L)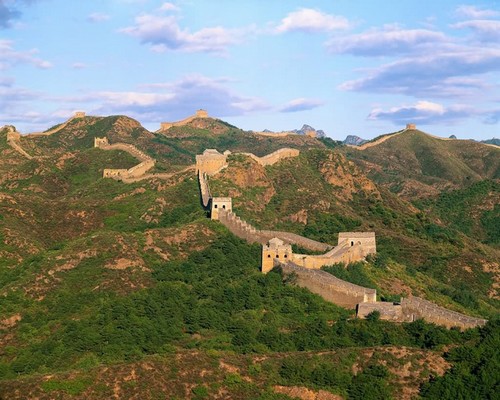 Sightseeing: Badaling Great Wall, Ming Tombs, Sacred Way

After experiencing the royal lifestyle, today we will be transferred to the surrounding countryside of Beijing and visit the Badaling Great Wall, the pride of China and one of the Seven Wonders of the World. Whereas Genghis Khan contemplated it as a military obstacle, Richard Nixon described it as one of humankind's greatest achievements. You will be able to climb and walk one of the best preserved sections of the 2,000 years old ancient wall, admiring the splendid mountain views. Bring a jacket and layer- although it is breezy, the climbing is tough. So be in a good shape!

In the afternoon we will visit the legendary Ming Tombs, which are situated at the foot of Heavenly Longevity Mountain, Changping, northwest of Beijing. Since there are 13 Ming emperors buried there, this place was called the 13 Ming Tombs. You will walk along the Sacred Way, a road guarded by stone statues on both sides, as the ancient emperors did to hold a memorial ceremony for their ancestors. Finally, you will encounter the marble tombs of the Ming Dynasty emperors and visit one of the spectacular tombs, indeed an underground palace.
Day 4 Beijing to Xi'an (B, L)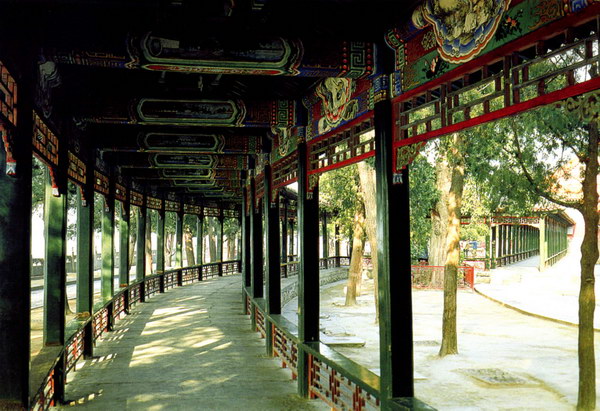 Transfer via: soft sleeper train-arranged by us
Sightseeing: Hutong Rickshaw Tour, Xiushui Street, Summer Palace

We will experience a unique Hutong tour by taking a men-driven rickshaw this morning. Hutongs are a kind of ancient city alley or lane and are very typical for Beijing. Most of them can be found close to the Forbidden City, and were built during the three dynasties of Yuan, Ming and Qing. Today, the Hutong is a living museum of Beijing history showing the traditional lifestyle of Beijing people. We will make stops to visit a local family and experience how the people of Beijing live.

Then we will visit the Xiushui Street, which is a market located nearby the embassy area where you can find a number of duplicates of clothing in traditional Chinese style. Here you will mingle with Beijing people, overseas and local art dealers as well as farmers who import goods from the countryside. Therefore you may find some interesting things and enjoy your bargaining with shopkeepers.

After having lunch at a local restaurant, you can spend the whole afternoon to visit the famous royal garden-Summer Palace. In 1888, the notorious Empress Cixi used the money intended for the Chinese Navy to build this opulent summer retreat for herself. Have a lakeside cruise on the lovely Kunming Lake and enjoy the magical views of the temples, pavilions and covered corridors around. Late in the evening you will be transferred to the railway station for your train to Xi'an. Overnight on the train this evening (soft sleeper).
Day 5 Xi'an (L)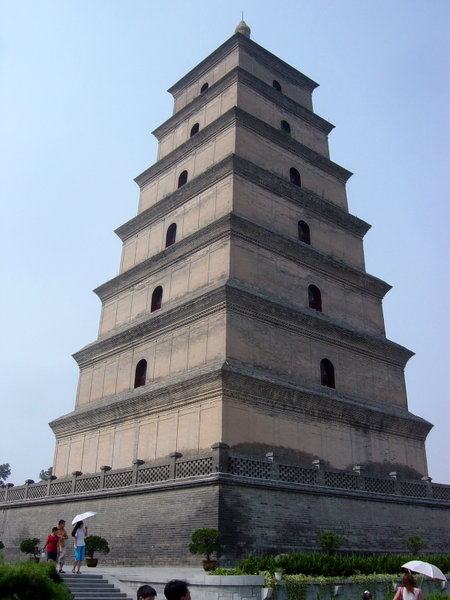 Sightseeing: Ancient City Wall, Bell Tower, Big Wild Goose Pagoda

This morning you will arrive in Xian, one of the most important cities in China's history. Being the first stop on the Silk Road, Xi'an was the first Chinese city which opened up its doors to the Ancient world since Tang dynasty. You will be met at the railway station and then visit the Ancient City Wall. You will experience a half-hour's hike along the Ancient City Wall. It is the largest and best preserved present city wall in ancient China and is probably the best military battlement in the world. If you want to, you can rent a bicycle for a ride on top of the spectacular city wall. The wall was built in the Tang dynasty (618 -907) and enlarged in the Ming dynasty (1368-1644).

Then we will go on to visit the Bell Tower, which is the best-preserved and best-known one among many. The Bell Tower was built in 1384. In early mornings of ancient times it had the mission of ringing the bell and giving the correct time to the whole city, hence called "The Bell Tower". With magnificent carved beams and painted rafters, this classical building is truly elegant.

Our last stop today will be the Big Wild Goose Pagoda. Situated in the south of Xian city, it is one of the main constructions in the famous Buddhist temple-Da-Ci-En Temple. There, the well-known Buddhist Master Xuanzang (Monk Tripitaka) stored his collection of classic Buddhist artifacts brought from India in Tang Dynasty. Now it is the Landmark of Xian.

Afterwards you will be transferred back to your hotel.
Day 6 Xi'an (B, L)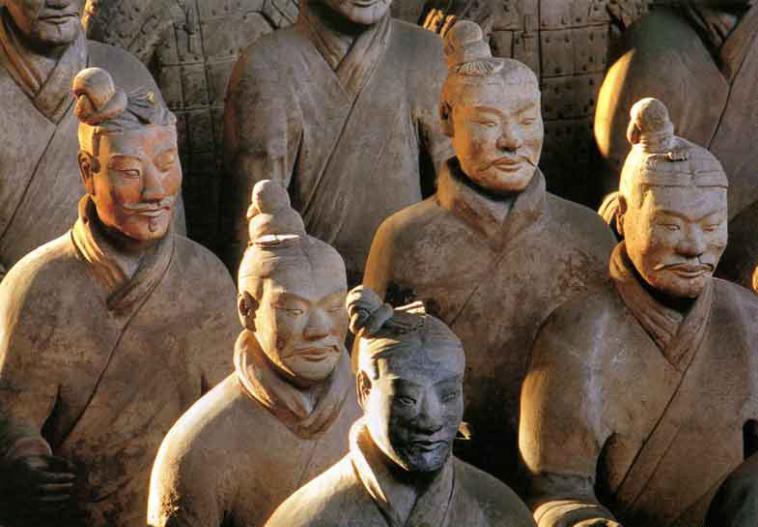 Sightseeing: Terra-cotta Warriors and Horses, Huaqing Hot Springs

Today you will experience the highlights of Xian. After breakfast you will depart from your hotel and visit the amazing 2000-year-old Terra-cotta Warriors and Horses. Regarded as the "8 th Wonder of the World", the Terra-cotta Warriors and Horses are the most significant archeological excavations of the 20th century. Over 2,200 years ago, the first emperor of China, Qin Shi Huang, ordered the construction of a vast army of Terra-cotta warriors in search of immortality. After his early death they were buried with him to protect his empire. More than 7000 vivid figures in full battle array are formed for battle in several large pits.

After lunch at a local restaurant, we will visit Huaqing Hot Springs. The Tang Emperor Xuanzong used to spend his wintertime in company of his favorite concubine Yang Guifei here. Entering the West Gate of Huaqing Hot Springs, you will see the delightful gardens of Nine-Dragon Pool, the Lotus Flower Pool and the Frost Drifting Hall with Tang style.
Day 7 Xi'an to Lhasa (L)
Transfer via: soft sleeper train-arranged by us

In the morning, you will be transferred to the railway station for your train T27 (departing from Xian at 08:48, arriving Lhasa 20:00 next evening) to Lhasa. Overnight on the train this evening (soft sleeper).
Day 8 On the train to Lhasa
Transfer via: soft sleeper train-arranged by us
Today we will experience the miraculous Tibet train journey. On the way, please enjoy the spectacular landscape. You will arrive in Lhasa, which is rightly one of the most featured and dreamt-about cities in the world. This is not only because of its remoteness, its high altitude at 3,650 meters (11,975 feet) means limited accessibility, but also because of its impressive heritage of over a thousand years of cultural and spiritual history that has helped to create the romantic and mysterious Tibetan religion. Afterwards you will be transferred to your hotel, and use your leisure time to acclimatize yourself to the high latitude.
Day 9 Lhasa (B, L)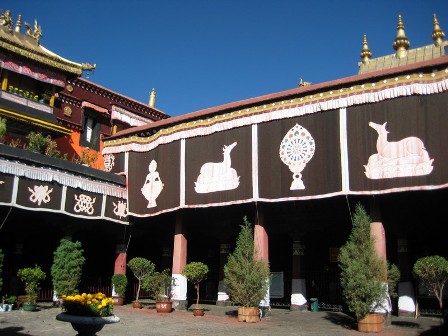 Sightseeing: Potala Palace, Jokhang Temple, Barkhore Street

We will go on a full day visit of Potala Palace. It is the greatest monumental structure all over Tibet. This ancient architectural complex is considered as a model of Tibetan architecture. Located on the Red Hill in Lhasa, it is 3,700 meters above sea level and covers an area of over 360,000 square meters. The palace has 13 stories, and is 117 meters high. In 641, Songtsan Gambo, ruler of the Tubo Kingdom, built the Potala Palace for Princess Wencheng of the Tang Dynasty, whom he was soon to marry.

Then we'll visit the Jokhang Temple, the spiritual center of Tibet. Every day, pilgrims from every corner of Tibet trek a long distance to the temple. The sacred image of Jowo Sakyamuni is the most venerated and beautiful image all over Tibet

After lunch in a local restaurant, we will visit Barkhor Street, which is the oldest street in Lhasa as well as the center of old Lhasa which remains very traditional. Located in the old area of Lhasa City, Tibet, Barkhor Street is a very ancient round street surrounding the Jokhang Temple. Tibetan people are very proud of it. As a symbol of Lhasa, this street is also a must-see place.
Day 10 Lhasa (B, L)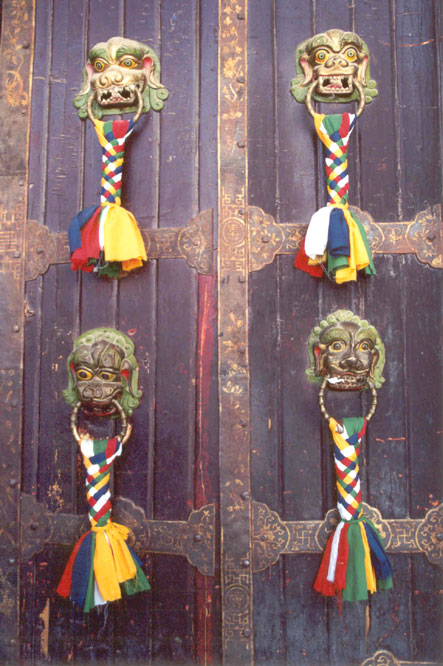 Sightseeing: Trupeng Monastery, Norbulingka, The Tibetan Dance & Song Show

We will enjoy a full day trip with a visit to Trupeng Monastery, one of the biggest monasteries in Tibet. The Monastery is so big that it is evocative of a town. Muslim poems are written on the walls of the Hall. The 5th Dalai Lama lived here before he moved to the Potala Palace. The Monastery used to nourish a lot of scholars of Buddhism in Tibet.

Then we will visit Norbulingka Park; Norbulingka meaning "Jeweled Garden", the Summer Palace of the Dalai Lamas. The gardens are poorly tended and the palaces themselves are something of an anticlimax, especially as most rooms are currently closed to the public.

In the afternoon we will visit the Sera Monastery, around 5 km north of central Lhasa, which was, along with Drepung, one of Lhasa's two great Gelugpa monasteries. Its once huge monastic population of about 5000 monks has now been reduced to several hundred. You will enjoy the exciting lection debating in Sera monastery this afternoon.

At last we will arrive at a local Tibetan Family. Common Tibetan people will welcome you to their homes; greet you in their traditional way and you will taste their typical food. You can feel Tibetan culture and religion vividly.
Day 11 Lhasa to Shanghai (B)
Transfer via: soft sleeper train-arranged by us

In the morning, you will be transferred to the railway station for your train T163 (departing from Lhasa at 10:00, arriving Shanghai 10:58 two days later) to Shanghai. Two overnights on the train (soft sleeper). Enjoy the wonderful views on the way.
Day 12 On the train
Transfer via:soft sleeper train-arranged by us.

Have a good rest on the comfortable train.
Day 13 Shanghai (B,L)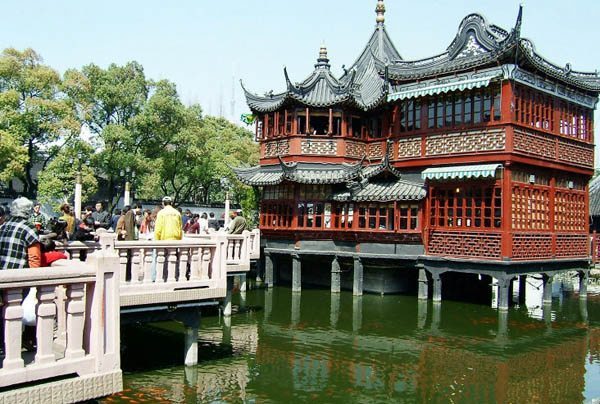 Sightseeing: Nanjing Road, the Bund, Yuyuan Garden, Jade Buddha Temple

At noon you will arrive in Shanghai. There, you will be met and transferred to your hotel. Then we will depart from your hotel to visit the Bund to take a walk along the waterfront and experience the smells, sights and sounds of the old "Wall Street"" in Shanghai. Actually, some people say that the Bund is like "an exhibition of buildings". Finally we will walk along the famous pedestrian street-Nanjing Road, known as "China's No.1 Shopping Street".
After having lunch at a local restaurant, we will take a stroll through the lovely Yuyuan Garden, one of the best Suzhou-style gardens in southern China, which has many scenic courtyards decorated with baroque rockery, pools and flora, all connected by corridors and passageways. Afterwards, you will get an insight into Shanghai's local life on the Yuyuan Market – taste a pot of tea, shop for unique souvenirs and get a feeling for Old Shanghai.
Follow us to the Jade Buddha Temple. It is famous for its two rare statues of Buddha carved out of a single piece of white jade. One is a 1,000kg, 1.9 meter-high figure carved from Burmese jade brought to China in 1882, and the other is a sleeping Buddha; The temple receives thousands of visitors and worshipers every day. If you're lucky, you can watch the monks serving a ceremony in a side room.
Day 14 Shanghai (B, L)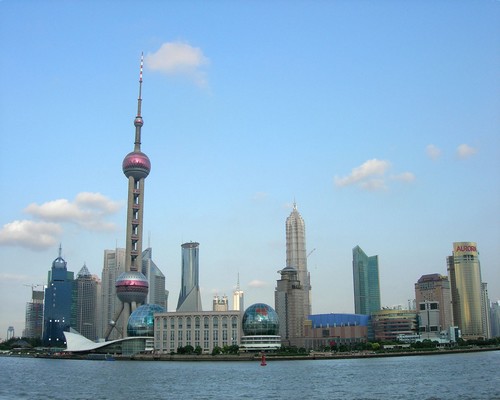 Sightseeing: Shanghai Museum, Shanghai Oriental Pearl TV Tower

In the morning we'll depart from your hotel and begin today's activities with a visit of the Shanghai Museum. As the biggest museum of ancient Chinese art in China, with a collection of over 120,000 pieces of Chinese art & cultural relics, Shanghai Museum is especially famous for its treasures of bronzes, ceramics, paintings and calligraphy, ancient Sculpture, ancient Jade, coins, Ming and Qing furniture and seals. Actually Shanghai Museum has eleven galleries and three special temporary exhibition halls.
After lunch you will visit the Oriental Pearl TV Tower, the highest TV Tower in Asia and the world's third highest, creating a picture of 'twin dragons playing with pearls'. Like the Statue of Liberty in New York, Sydney Opera House and Eiffel Tower in Paris it has become Shanghai's symbolic architecture. The evening will be free for your own activities.
Day 15 Shanghai Departure (B)
Transfer via: Flight on your own arrangement

The rest of the day is your own, until our guide escorts you to the airport for your next destination.