8 Days China Fantastic Tour with Luxury Train
Tour Code:CTT01
Tour Duration: 8 Days
Tour overview:This wonderful tour takes you to two of China's most popular destinations; Beijing and Shanghai, and you travel between these two cities via an overnight soft sleeper train. Train travel is a wonderful experience, and a great way to save money on a China tour. You will begin in Beijing, China's capital for centuries, where you will see the Imperial splendor of many world famous sites. You will then travel to Shanghai. Shanghai is an incredible city which blends Chinese and Western culture.
Tour Price:2-5 pax (Tourist Class) : USD676 per person
Day by Day Itinerary
Day 1 Beijing Arrival
Transfer via: Flight on your own arrangement
Upon your arrival, our local guide will meet you and escort you to your hotel. Then you will spend the rest of the day at your leisure, or resting and catching up on your jet lag.
Day 2 Beijing (B, L)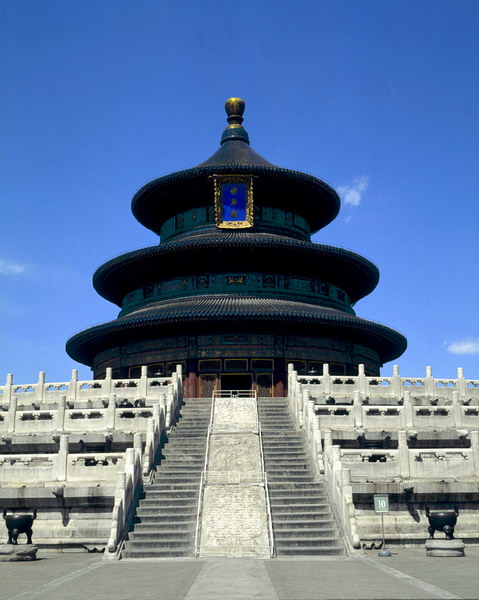 Sightseeing: Temple of Heaven, Beijing-Tiananmen Square, Forbidden City
This morning our tour will begin with a visit of the Temple of Heaven, which was completed in 1420, and expanded over the years by two Qing Dynasty Emperors. The temple of Heaven was where the Emperor came every winter solstice to worship heaven and to solemnly pray for a good harvest. With the three blue-tiled cone-shaped roofs, a unique wooden and blue-tiled structure built without a nail, it has become a worldwide symbol of Beijing. In the park nearby, local people practice Tai Chi or sing and dance relaxingly.
After lunch, we will start our city tour to visit Tiananmen Square, the symbolical heart of China and gathering place for the masses. It is the biggest public square in the world, and can hold one million people.
From here we will walk across the Golden River Bridge to visit the Forbidden City and experience the ancient Emperor's daily life. For 5 centuries Chinese emperors carried out their administration here. With almost 10,000 rooms, it was the centre of the Ming and Qing dynasties, a massive complex of palaces, pavilions, courtyards and gardens where 24 emperors used to live. Forbidden City was the largest palace in the world, and in the past it was indeed a forbidden place for commoners.
Day 3 Beijing(B, L)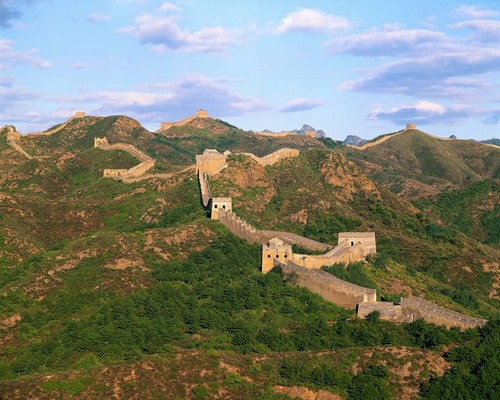 Sightseeing: Badaling Great Wall, Ming Tombs, Sacred Way
After experiencing the royal lifestyle, today we will be transferred to the surrounding countryside of Beijing and visit the Badaling Great Wall, the pride of China and one of the Seven Wonders of the World. Whereas Genghis Khan contemplated it as a military obstacle, Richard Nixon described it as one of humankind's greatest achievements. You will be able to climb and walk one of the best preserved sections of the 2,000 years old ancient wall, admiring the splendid mountain views. Bring a jacket and layer- although it is breezy, the climbing is tough. So be in a good shape!
In the afternoon we will visit the legendary Ming Tombs, which are situated at the foot of Heavenly Longevity Mountain, Changping, northwest of Beijing. Since there are 13 Ming emperors buried there, this place was called the 13 Ming Tombs. You will walk along the Sacred Way, a road guarded by stone statues on both sides, as the ancient emperors did to hold a memorial ceremony for their ancestors. Finally, you will encounter the marble tombs of the Ming Dynasty emperors and visit one of the spectacular tombs, indeed an underground palace.
Day 4 Beijing (B, L)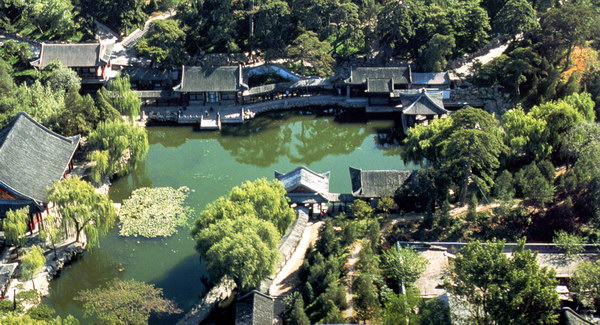 Transfer via: soft sleeper train-arranged by us
Sightseeing: Hutong Rickshaw Tour, Xiushui Street, Summer Palace
We will experience a unique Hutong tour by taking a rickshaw this morning. Hutongs are a kind of ancient city alley or lane and are very typical for Beijing. Most of them can be found close to the Forbidden City, and were built during the three dynasties of Yuan, Ming and Qing. Today, the Hutong is a living museum of Beijing history showing the traditional lifestyle of Beijing people. We will make stops to visit a local family and experience how the people of Beijing live.
Then we will visit the Xiushui Street, which is a market located nearby the embassy area where you can find a number of duplicates of clothing in traditional Chinese style. Here you will mingle with Beijing people, overseas and local art dealers as well as farmers who import goods from the countryside. Therefore you may find some interesting things and enjoy your bargaining with shopkeepers.
After having lunch at a local restaurant, you can spend the whole afternoon to visit the famous royal garden-Summer Palace. In 1888, the notorious Empress Cixi used the money intended for the Chinese Navy to build this opulent summer retreat for herself. Have a lakeside cruise on the lovely Kunming Lake and enjoy the magical views of the temples, pavilions and covered corridors around.
Day 5 Beijing to Shanghai(B, L)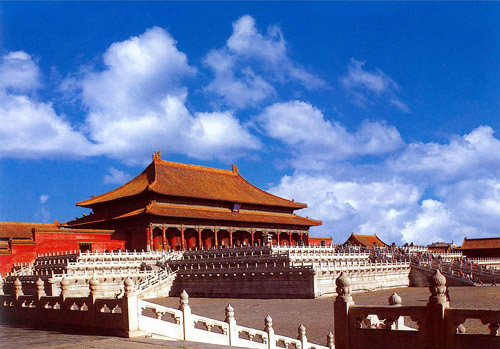 Transfer via: soft sleeper train-arranged by us
Sightseeing: Lhama Monastery
Today we will visit Lhama Monastery, the largest 260-year-old monastery in Beijing of the Yellow sect of Lamaism. Inside the temple, in the center of the Hall of Infinite Happiness (Wanfuge), a grand statue is standing which is a 85-foot-tall Tathagagata (Maitreya) Buddha made of one single Tibetan sandalwood.
After lunch, you can enjoy some leisure time to go shopping or walk around Beijing city center. Late in the evening you will be transferred to the railway station for your train (departure in the evening, arrive the next morning) to Shanghai. Overnight on the train (soft sleeper).
Day 6 Shanghai(L)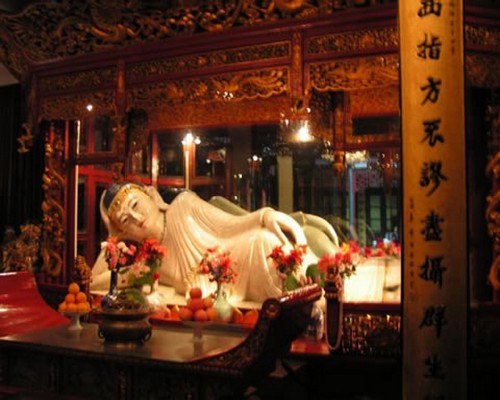 Sightseeing: Nanjing Road, the Bund, Yuyuan Garden , Jade Buddha Temple
At noon you will arrive in Shanghai. There, you will be met and transferred to your hotel. Then we will depart from your hotel to visit the Bund to take a walk along the waterfront and experience the smells, sights and sounds of the old "Wall Street"" in Shanghai. Actually, some people say that the Bund is like "an exhibition of buildings". Finally we will walk along the famous pedestrian street-Nanjing Road, known as "China's No.1 Shopping Street".
After having lunch at a local restaurant, we will take a stroll through the lovely Yuyuan Garden, one of the best Suzhou-style gardens in southern China, which has many scenic courtyards decorated with baroque rockery, pools and flora, all connected by corridors and passageways. Afterwards, you will get an insight into Shanghai's local life on the Yuyuan Market – taste a pot of tea, shop for unique souvenirs and get a feeling for Old Shanghai.
Follow us to the Jade Buddha Temple. It is famous for its two rare statues of Buddha carved out of a single piece of white jade. One is a 1,000kg, 1.9 meter-high figure carved from Burmese jade brought to China in 1882, and the other is a sleeping Buddha; The temple receives thousands of visitors and worshipers every day. If you're lucky, you can watch the monks serving a ceremony in a side room.
Day 7 Shanghai(B, L)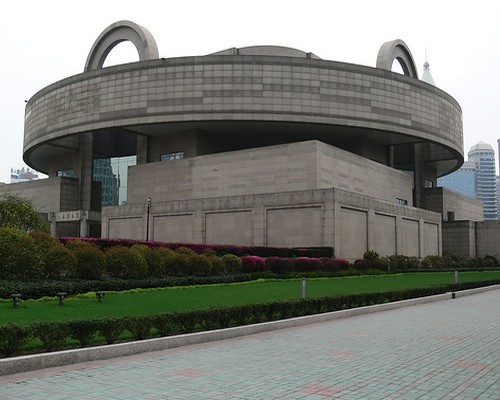 Sightseeing: Shanghai Museum, Shanghai Oriental Pearl TV Tower
In the morning we'll depart from your hotel and begin today's activities with a visit of the Shanghai Museum. As the biggest museum of ancient Chinese art in China, with a collection of over 120,000 pieces of Chinese art & cultural relics, Shanghai Museum is especially famous for its treasures of bronzes, ceramics, paintings and calligraphy, ancient Sculpture, ancient Jade, coins, Ming and Qing furniture and seals. Actually Shanghai Museum has eleven galleries and three special temporary exhibition halls.
After lunch you will visit the Oriental Pearl TV Tower, the highest TV Tower in Asia and the world's third highest, creating a picture of 'twin dragons playing with pearls'. Like the Statue of Liberty in New York, Sydney Opera House and Eiffel Tower in Paris it has become Shanghai's symbolic architecture. The evening will be free for your own activities.
Day 8 Shanghai Departure(B)
Transfer via: Flight on your own arrangement
You will have a free day until our guide escorts you to the airport for your next destination.
Tour Price
Season
Tour Class
Group Size
Single Room
Supplement
1pax
2-5pax
6-9pax
Peak Season
3*(Tourist Class)
$1419
$895
$676
$196
4*(Deluxe Class)
$1650
$1005
$770
$308
5*(First Class)
$2250
$1298
$1078
$600