Guilin Transportation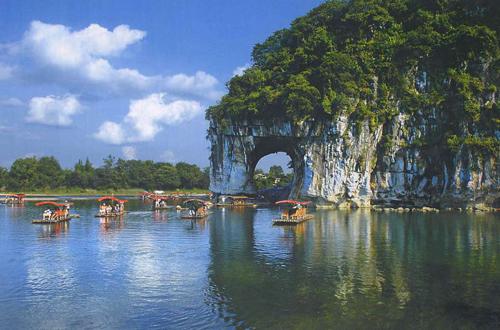 By Air
The Liangjiang International Airport of Guilin, 30 kilometers to the downtown city, provides more than 60 lines to most popular tourist cities of mainland China, to Hong Kong, Macao, as well as to some foreign countries, such as Fukuoka of Japan, Cheju of South Korea, Singapore, Thailand, Malaysia, and so on.
Shuttle buses, which are available till late night, run between the airport and Air Aviation Hotel (in downtown Guilin) every 30 minutes. And the ride will take about 40 minutes.
By Train
Guilin is an important hub in Chinese railway network, which provides daily services to almost every major city of the country. There are two train stations in Guilin, the Northern Train Station and the Southern Train Station (or Guilin Station in short), the later of which is the major one located in the intersection of Shanghai Road and Zhongshan South Road.
By Bus
There are three bus stations in Guilin. The most important one is located in No.427, Zhongshan South Road, about 10-minute walk to Guilin Train Station. It has daily coaches to almost every county and town within Guangxi Province, and various cities of Guangdong and Hunan provinces. Shuttle buses to surrounding tourist attractions are also available and the buses to Yangshuo are in the square in the front of the Guilin Train Station.
By Ship
Guilin's waterway is based on Xiang River and Li River. Along the Li River, it can reach Wuzhou City and then to join the Zhujiang River to get to Guangzhou, Hong Kong and Macao.